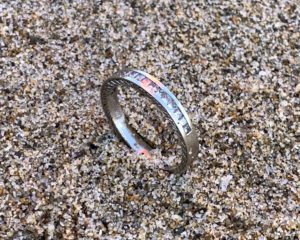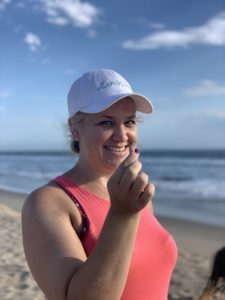 If you lose your valuable in a place where a metal detector can be used, I am available to help, call now. .. 949-500-2136.
*** Heather and Justin were at Huntington Beach, CA. for the day with their young daughter. As Heather was packing up their things her platinum diamond wedding rings slipped of her finger falling into the dry sand. 
She and Justin couldn't find the rings and it was getting late with the chilling wind also frustrating them. Heather called me asking if I was available to help them. Just as I was getting directions to their location. Heather said, "Oh! my husband just found the engagement ring. I will call you back in 20 minutes."
It was a short phone conversation but I did know what lifeguard tower they were near and that the rings were lost in dry sand. I was sure that they were not going to be able to find the smaller ring with their fingers. I was out doing errands and didn't want to drive home to wait for a phone call. It was closer to go to the location that Heather gave me. Surely, I would be getting another phone call.
Arriving at the upper parking area at Huntington Beach, I could only see one family walking off the beach pulling a wagon. Heather had not returned a call possibly they had found the other ring and left the beach? I decided to walk down to the beach to do some recreational detecting. That's what I do most everyday.
Walking down the steps with my detector, I met the couple coming off the beach. The guy pulling the wagon looked straight at me then asked me if I could help them find a wedding ring. I told him,  that's why I'm here. I am the guy your wife called about an hour ago. Right away Heather started apologizing for not returning the call she promised me. 
We followed the wagon tire tracks back to the place on the beach where the loss occurred. Location and timing made it easy to find the platinum diamond wedding ring with a professional type metal detector. We had Heather's irreplaceable original wedding band back where it belongs , the one that was put on her finger the day she and Justin got married.
It's a shame that people walk away from lost keepsakes that can be found by a RingFinder. I can't tell you how many times I been told, "I Didn't Know This Service Existed".. This time my experience with past searches that I would be needed to help find the elusive small ring. It hard to explain, I just had a gut feeling that I should go to the location even though I had not got a return phone call.
" I WILL TRY ANYWHERE " available now … 949-500-2136