BRIAN RUDOLPH, LOST ITEM RECOVERY SPECIALIST (LAND, WATER, SAND, HOUSES & VEHICLES) WILL FIND YOUR LOST KEEPSAKE! CALL ASAP (301) 466-8644!
Being a part of THE RING FINDERS is not just a helpful tool to the thousands who contact us via email, text or call, but in addition to the common channels used to find us, sometimes we find the lost items and return the priceless keepsakes to the owners before they even contact THE RING FINDERS member in their local area! Let me explain.
Because those of us who are members of THE RING FINDERS are naturally inclined to keep our eyes wide open and our detectors moving swiftly, we occasionally stumble upon missing items that people lose even before the connection is made with that potential client. We may be metal detecting on the beach or in a park and lo and behold, we find a piece of jewelry that had been recently dropped by someone who was walking their dog or playing a sport on the field. Because we recognize just how much these items mean to those who lose them, we care enough to go to whatever means possible to return the keepsake to the rightful owner.
This very situation happened to me just prior to the COVID-19 pandemic. While I was dining in a pizza restaurant in Montgomery Village, Maryland, I stopped in the restroom just prior to me leaving the place. I happened to look down and see a lovely gold heart pendant with a CZ diamond in the center. It was resting on the floor next to the right side of the toilet. I thought it was quite odd that a lady's pendant ended up on the floor in the men's room. I logically concluded that the owner of the pendant was most likely a female employee at the restaurant because under normal circumstances a woman would not be using the men's room. I thought, 'Perhaps a female worker came inside to scour the place and she accidentally broke her chain in the process, causing the pendant to separate and fall to the floor'.
I took a paper towel and carefully picked up the pendant. Then, I took another piece of paper, placed it in the sink and rested the pendant over the paper towel to carefully wash it clean. Finally, I dried it off before eventually placing the heart inside my pocket.
As soon as I came out of the restroom, I made my way towards the front and immediately grabbed the attention of one of the restaurant's long time servers, a 10-year employee named Yasmina. I asked her if she could check with the management team to see if anybody lost a piece of jewelry sometime that day. The moment that I made that request, her face lit up as if something wonderful had just happened to her! She excitedly responded by asking me, "Did you happen to find a heart pendant with a stone in the middle?!" I surprisingly replied, "Yes, how did you know about the missing pendant?! Did a customer mention that they lost it recently?" Yasmina answered, "No! I'm the one that lost the pendant a couple days back! I don't believe this! I've been looking all over for it and I have been devastated that it fell off of my chain! I thought it was lost forever! I'm certain that this must be the pendant!" As she shared her account, she showed me a chain that was well secured around her neck where the pendant was once fastened to.
I carefully reached into my pocket and pulled out the piece of jewelry and showed it to Yasmina who happened to be one of my favorite servers. Her eyes widened even more as she exclaimed, "You found it! You found it! You found my missing pendant! I can't thank you enough! This is wonderful!"
Apparently, this yellow 14 karat gold heart with the lovely stone in the center was given as a wedding gift to Yasmina 12 years earlier by her aunt. She was completely horrified that she had lost the pendant because it meant so much to her.
The restaurant server first noticed that the pendant was gone when she had arrived home from work two days prior (Friday night). The chain that held the pendant was broken but had still been dangling around Yasmina's neck. She frantically looked everywhere around the house and in the car, but to no avail. That's when she returned to work the next day and looked everywhere in the restaurant but she still couldn't find it. It was at that point that she realized that it was most likely gone forever. Yasmina felt very depressed knowing how much this gift meant to her (representing her wedding day and how much she loved her aunt who gave the sentimental keepsake).
When I asked the pizza restaurant employee to guess where I found the missing piece of jewelry, Yasmina immediately guessed that it was found in the restroom! Just as my suspicions proved to be correct, she had been cleaning the bathroom that Friday night and somehow the chain broke loose, and as a result, the pendant fell to the floor! Although she went looking everywhere for the lost item, even searching in the bathrooms, her eyes just didn't zero in on it!
We both couldn't believe that it had been on the floor for more than 48 hours and nobody had picked it up in all that time! I was so happy to have found the piece of jewelry and the rightful owner! This recovery meant quite a bit to me because the pendant happened to be owned by one of my favorite servers! Yasmina kept thanking me over and over again and I was overjoyed with happiness, knowing that I could return something as precious as this back into her life!
The ironic part of this whole story is that I had been working on a ring search recovery story while I was eating my dinner that night in the restaurant. Yasmina inquired about what I was doing and I shared more about THE RING FINDERS and how special it is to help people find their lost possessions! Little did we know that 30 minutes later, right there in her workplace, I would end up recovering Yasmina's very own beautiful gold heart pendant that she had earlier concluded that it was gone forever! With much happiness, this ring finder proved her sad conclusions to be wrong!
If you would like to view the video of this pendant story, please subscribe to my YouTube channel and you will be notified when the search video is uploaded onto YouTube.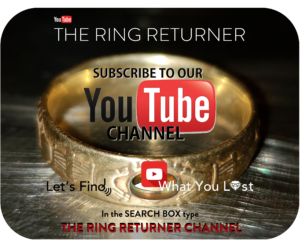 SUBSCRIBE TO BRIAN'S YOUTUBE CHANNEL TO VIEW THIS SEARCH VIDEO!
If you would like to watch the  VIDEO pertaining to this story, the video will be uploaded soon. To receive a NOTIFICATION letting you know when the video is uploaded to YOUTUBE: go to YOUTUBE by CLICKING THE LINK BELOW or OPEN your YOUTUBE APP on your device. In the SEARCH BAR, type: THE RING RETURNER, click SUBSCRIBE and lastly, CLICK ON THE "BELL" to receive NOTIFICATIONS when this latest search video is available to view! 
BRIAN'S YOUTUBE CHANNEL LINK: 
https://www.youtube.com/channel/UCmcn09QqWhHrj-7SGqlUBJQ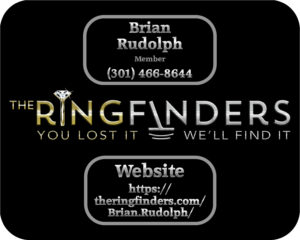 CALL BRIAN RUDOLPH WITH THE RING FINDERS AT (301) 466-8644!
VISIT THE RING FINDER'S WEBSITE TO READ MORE OF BRIAN'S SUCCESSFUL SEARCH STORIES at:
https://theringfinders.com/Brian.Rudolph/
HE WILL RETURN TO YOU WHAT HAS BEEN LOST!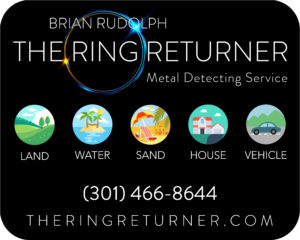 VISIT BRIAN'S LOCAL WEBSITE FOR ADDITIONAL STORIES AND INFORMATION AT: www.theringreturner.com