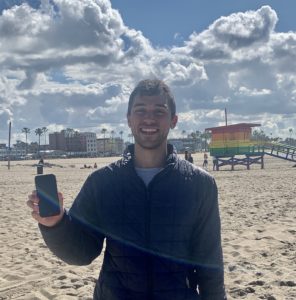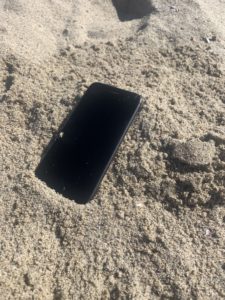 Mobile Metal Detecting Service … Stan ..The Metal Detector Man .. Available Now  … 949-500-2136
Rene' called me requesting help to find her friend Chris' iPhone lost the night before in the sand at Venice Beach, CA. 
These cellphones can be hard to find at the beach as they are often picked up by people walking the beach. After hearing that the loss occurred in very soft sand and the Find My iPhone app indicated it was still at the location, I told them I would be there within an hour.
We met on the beach where I was glad to see that the beach rake had not passed over the possible area of the loss. I set up my detector beginning a search grid approximately 20ft. by 30ft around the gps app location. From my experience the Find My iPhone App can be off as much as 30 ft. This find also occurred more than 35 ft. outside the gps ping location. After about 20 minutes I got a clear #30 tid reading from my metal detector.
I used my hands feel through the sand because it's very easy to damage a cellphone with my metal sand scoop. 
Both Rene' and Chris were very relieved and grateful to have the phone back saving them all the trouble of having to replace the expensive item,  irreplaceable photos and information.
Another successful search and happy smiles from Rene' and Chris
"I WILL TRY ANYWHERE "   Call ASAP   .. Stan   949-500-2136