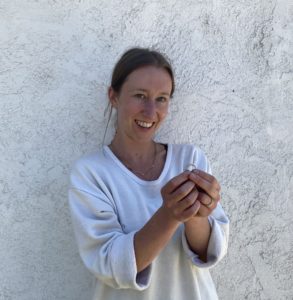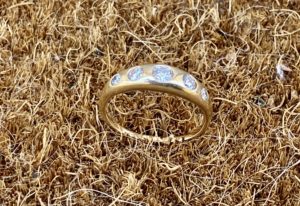 Metal Detecting Service .. Call Stan the Metal Detector Man ..  949-500-2136..  Email: Stan.Ross@theringfinders.com
***  I received a call from Natalie in Long Beach, CA. She had lost her wedding ring in the backyard while pulling weeds. She had put the gold w/ diamonds ring in her back pocket. When she returned to the house the ring was not in her pocket. 
I was able to meet her a few hours later. Natalie showed me the small backyard explaining that she had also had her cellphone in the same pocket as her wedding ring. Evidently the ring came out of her pocket when the she used the cellphone. This is not the first time I've heard this same story. It happens quite often because these cellphones have a lip that can drag loose items out of a pocket.
I started by checking the pile of weeds that had been pulled. Then I began the grid search of the 40'x 40' lawn. It is an older piece of property with a lot of pieces of metal trash in the lawn. I usually search in all metal mode setting with my metal detector. This being a small yard I discriminated out the ferrous metals. 
Halfway through the yard I had two similar signals very close to each other. One was a pull tab and the other was Natalie's beautiful gold diamond wedding ring. It was another successful ring recovery. Natalie was very happy and relieved that she didn't have to lose sleep worrying about if she could find her ring.
"I WILL TRY ANYWHERE"… Finding your valuables is important to me .. Call now !  Stan the Metal Detector Man …  949-500-2136  .. Email: Stan.Ross@theringfinders.com