Brian Rudolph, Lost Item Recovery Specialist (Land, Water, Sand, Snow, Leaves, Houses & Vehicles) Will Find Your Lost Keepsake! Call ASAP (301) 466-8644!
I received a call from a young man named Doug in Alexandria, Virginia who lost his titanium wedding band made by the David Yurman company. He was playing out in the snow with his children and their pet dog, and by the time he returned back into the house from all of their fun, Doug noticed that his most special sentimental keepsake was no longer on his finger. Because he remembered that the ring was loose on his finger outside earlier that same day, the distressed fellow was pretty confident that the band had been lost out in the snow while playing.
Not taking matters into his own hands but rather trusting the competence of a professional metal detectorist, Doug found my metal detecting services on the elite international metal detecting specialist directory website called THE RING FINDERS. He learned that I provide my metal detecting expertise in the Alexandria, Virginia area and immediately called me for help!
The next morning, I arrived at Doug's lovely snow covered neighborhood to conduct the ring search. My new client showed me all of the areas where he had been walking around, playing with the dog and having a blast out in the snow with his well entertained children. Within a few minutes I had all of the information necessary to start the search.
I returned to my car, pulled out my waterproof detector, headphones and gridline tapes and began the process of looking for Doug's most special "symbol of love". Within 10 minutes of swinging my machine back and forth as I analyzed the snow for the wedding band, I picked up the perfect signal coming from beneath the ice. Because I am so experienced with recovering all types of rings made of every kind of metal, I was pretty confident that this very target was the lost piece of titanium that went missing the day before. With much excitement and anticipation, I knelt down on the snow and pulled out my handheld metal detector (which is called a pinpointer) and began to wave it over the area where my machine coil was picking up the object that I was after. Once I knew the exact spot where the target was buried, I used my fingers to dig my way down through the snow until my eyes locked in on exactly what I thought the mystery item happened to be! It was in fact Doug's titanium wedding band! I found it! I couldn't have been more happy for my client the moment that the silver-like colored halo appeared from within the snow!
The best part of my search and recovery time (other than of course finding the lost item that meant the world to Doug), was the moment that I surprised my client with his very handsome wedding band! Doug was so appreciative of my expertise and efforts in successfully returning his special wedding band back to his finger! He couldn't believe how fast I was able to recover it for him! During the rest of the time that I was on my client's property, Doug kept expressing his gratitude for what I was able to accomplish for him. He told me over and over again how glad he was for not wasting his money and time on a rental machine that he knew nothing about. But instead, he called in a professional who took care of his most important need…preserving his irreplaceable "symbol of love" that his wife Lisa placed on her husband's finger several years earlier on their very special wedding day!
SUBSCRIBE TO BRIAN'S YOUTUBE CHANNEL TO VIEW THIS SEARCH VIDEO!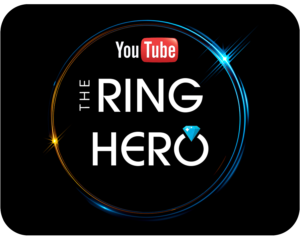 To receive a NOTIFICATION letting you know when the video is uploaded to YOUTUBE: go to YOUTUBE by CLICKING THE LINK BELOW or OPEN your YOUTUBE APP on your device, go to the SEARCH BAR, type: THE RING HERO, click SUBSCRIBE and lastly, CLICK ON THE "BELL" to receive NOTIFICATIONS when this latest search video is available to view! 
BRIAN'S YOUTUBE CHANNEL LINK: 
https://www.youtube.com/channel/UCmcn09QqWhHrj-7SGqlUBJQ
CALL BRIAN RUDOLPH WITH THE RING FINDERS AT (301) 466-8644!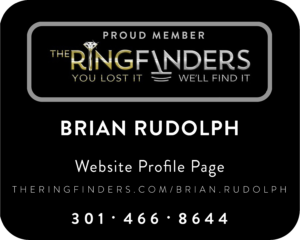 VISIT THE RING FINDER'S WEBSITE TO READ MORE OF BRIAN'S SUCCESSFUL SEARCH STORIES at:
TheRingFinders.com/Brian.Rudolph/
HE WILL RETURN TO YOU WHAT HAS BEEN LOST!
VISIT BRIAN'S PERSONAL WEBSITE FOR ADDITIONAL STORIES AND INFORMATION AT: www.TheRingHero.net