Vancouver Ring Finder Chris Turner- Ring Recovery Specialist…Lost your ring?… Metal Detecting Service/Call ASAP  Anytime   778-838-3463
Lost your ring in the snow, contact a member from TheRingFinders.com  Find a member nearest your location…ASAP
Yesterday December 26, I got a message from a young man who asked me for help to find his lost white gold wedding band  in the snow. He lost his ring while tobogganing with his daughter, he took off his glove and his ring must have fallen off his finger into the snow somewhere. I was at my grandson's that day giving him his Christmas presents and spend some time with him, we love and miss him so much, he lives on the island. After our visit we took a ferry back home to the mainland, I met up with Sean and he showed me the approximate area where he believed he lost his ring.
Sean spent hours in the snow looking for his ring that day but did not find it. I started grid searching the area and did not find it where he thought it could've been, this is no big deal as most time people put me in the wrong area. The most important thing is to expand the grid until you find it, the search took me a total of 20 minutes before I found this beautiful white gold ring.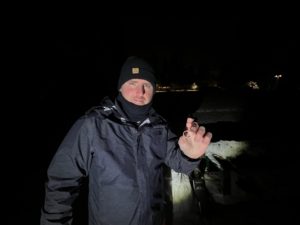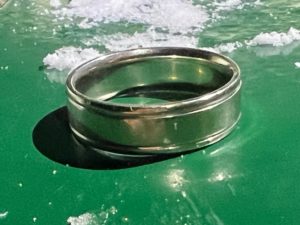 Oh yeah by the way it was 16° very cold my moustache was freezing lol thankfully the search only took 20 minutes and we both were on our way back to our homes, mind you I was on my way back to a cell phone search in a big park.
I truly love my job, I have the best job in the world, I get to find peoples lost smiles and see how it affects their lives!
Vancouver Ring Finder Chris Turner- Ring Recovery Specialist…Lost your ring?… Metal Detecting Service/Call ASAP  Anytime   778-838-3463