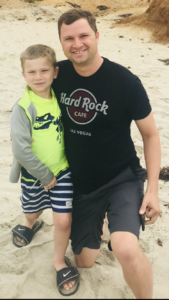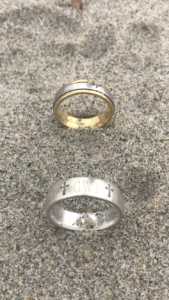 The Ring Finders metal detector service helped find & return 2 lost rings at a Carlsbad beach. Call NOW 760 889 2751 for a fast & effectual search.
I received a call early in the morning from Atom who had lost 2 rings in the dry sand and asked if I could help search for it?
I said yes and can be there in 20 min.
We met at the local beach where Atom showed me the scene of the lost rings.I asked him a few ring detective questions then began my search…In less than a few minutes I hear a ring in my headphones and told Atom I have a good signal. He was just 5' away watching as I took 1 scoop then out popped 2 rings.A very precious yet sentimental James Avery Silver & a Gold/Platinum wedding band.Atom and his son were relieved but now they can once again enjoy the fun in the sun while on vacation in San Diego.
The story behind your rings can continue on if you call a local From Theringfinders immediately.Timing is Keene.
Best regards to Atom and the Family.
Tags; Camp Pendleton,Oceanside,Carlsbad,Carlsbad State beach,Carlsbad Camp grounds,Ponto beach,La costa,Encinitas beach,Moonlight beach,Cardiff beach,Solana Beach,Del mar,Torrey pines,La Jolla,Mission beach