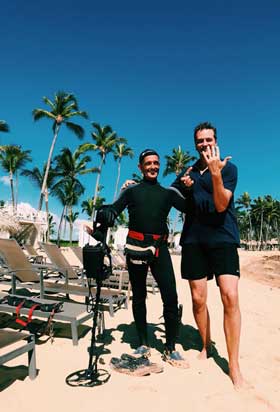 A couple of months back, I got a call from a guy who said he had lost a ring in Punta Cana. I get calls from all around the United States for lost rings, even though I'm in Wisconsin. Google picks up my lost ring blogs, newspaper articles or podcasts that I've been featured in over the years. Neil told me he had lost his platinum Cartier ring at the Now Onyx Resort in Punta Cana. Wow! I had stayed at the exact same resort with my family only months earlier.  What are the chances?
Lost Cartier Ring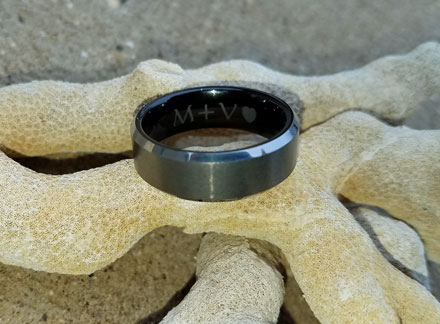 Neil found a blog of mine about a lost ring at the beach in Punta Cana. I was there on vacation and doing what I call "hobby hunting".  Most of the time I spend metal detecting is for other people's ring back in Wisconsin.  When we go on vacation, I always pack my detector so I can get some time hunting in the water.  Would you believe I found a lost wedding ring in the ocean?  So, I posted a blog with a picture to try to locate the couple. The picture of this ring is to the left. I still am hopeful that I can locate M + V someday.
Neil found the blog post and called me at 6:00 pm. After hearing his story, I felt the need to help even though I was in WI.  Would you believe I had a contact of a local guy in Punta Cana?  Well through the power of Facebook, I sent him a message and he responded instantly.  Roland was in contact with Neil within a couple of hours and they set a plan to search the next day.
As you can see in the picture, Roland was successful and Neil was ecstatic!  For the full story written by Neil, check out the following link about his lost Cartier ring.
If you've lost your ring, even if there isn't someone listed in the directory – don't be afraid to reach out to someone, as the metal detecting community is very close and chances are someone knows someone who knows someone close to you!