Lost Class Ring Found & Returned
Carlsbad State beach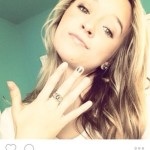 Over the years I have invested in Many Metal detectors But I recently decided to purchase the first detector I ever owned wich I broke along time ago,The Garrett Gold Stinger. When I received this in the mail I went straight to the beach to Re-learn & Test this machine in excitement ..I was only swinging this antique machine for maybe 5-10 minutes when I got a strong Gold Target and took 2 scoops in the sand then out comes a Class Ring:) Cool! It's alive and working like I remember:)
Fortunately for the owner this is a rare find to have a Full Name inscribed in the ring,so I then called John Hughes also a member of TheRingfinders and he was able to locate her on Facebook leaving a message "We found a ring and it maybe yours!?
Days go by and she finally called us saying she's lives in Utah,but was on vacation in carlsbad recently and wasn't certain & not sure that we had her ring hours go by as she was unpacking from the trip she couldn't find it….Then she Text us later  "oh my God,That is my Ring I  didn't even know I had lost it" !  Thank you,thank you.
The next morning I drove to the post office,mailed it Back to Utah and She was Re-united with her Class Ring.
Another Honest Find and return and a beautiful smile added to my day:)