I received a call the other day from a young man who lost his wedding ring in the ocean while swimming, he tried for a few hours to find it but the tide was fast moving in and the depth was getting to deep to continue the search.
He remembered a friend of a friend who lost their ring and how they found me on The Ring Finders Directory, so he got on line and found the directory and called me.
From his description of where the ring was lost I knew I'd have to hit it hard at low or a little before. Lots of people metal detect the swimming areas everyday at low tide.
I decided to make a night of it and arrived at midnight at Kits Beach and searched the dry sand until 6am. I found a little over $20 in change 1 iPhone 4s that was returned back to the owner later that day, 1 Tungsten wedding band(still looking for the owner) 1 big Heart pendent and long chain and loads of bottle caps, pull tabs & booby pins.
At 6 am I tested the water and it was cold but I knew I better get at it and search for the lost white gold wedding band. After 15 minutes in the nice but cold water I got a good signal and after checking the scoop I saw the glimmer of white gold mixed in with the rocks and sand.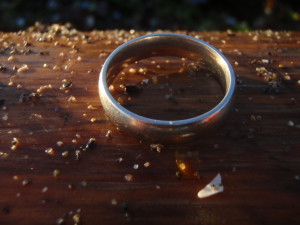 It only took 15-20 minutes because David remembered to take notes and references to where the ring was lost and that helps me a lot.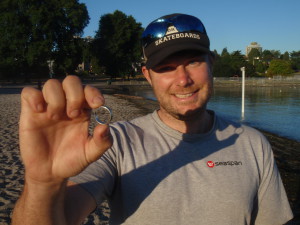 I love my job!
Lost something…Call me ASAP!
Watch video of the search here…