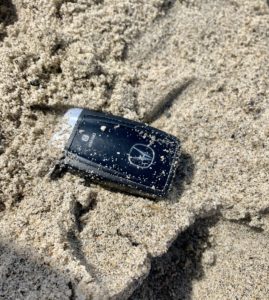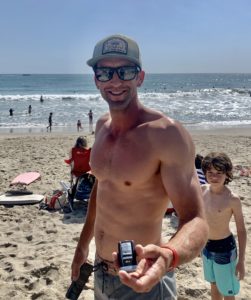 Metal Detector Man .. Mobile Detecting Service available to help you now …. 949-500-2136
**** After a day at a local San Clemente, CA. beach, Justin and his family had discovered his car key fob was missing. The last they saw of them was when their 5 year old son was playing with them.
Justin thought his wife took them from their son. His wife thought Justin had taken the fob from then son. Nevertheless the keys were missing somewhere in the sand.
A passerby saw them searching for the missing key fob and told them about TheRingFinders. After he called me, agreeing to stay in the location, I met him a little more than a half hour later. 
It was a 25'x 25' spot. The usual bottle caps and small metal trash. As I was running out of search area when I got a deep weak signal. I dug more than 12" deep to my surprise it was the car key fob. Usually they are just below the surface, but the youngster must have been burying pirate treasure. Who knows, just happy for a successful search and recovery.
"I WILL TRY ANYWHERE" Call or text Stan the Metal Detector Man .. 949-500-2136