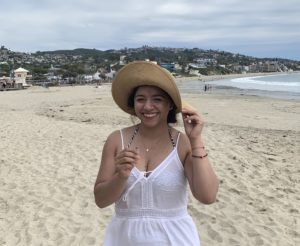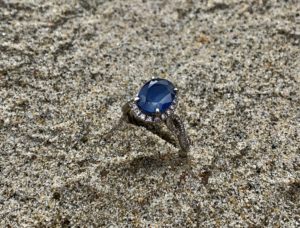 Stan the Metal Detector Man … Available to Help You Now .. 949-500-2136
***Susie and Aiman had enjoying a day at the beach in Laguna Beach, CA. While sitting on the sand Susie dropped her two rings in the dry sand. They found one of the rings but the white gold blue sapphire with diamonds ring eluded their efforts to recover it.
They went to their hotel and the lifeguard to ask for help finding a metal detecting service. Neither of the people they talked to could help them. Aiman was getting frustrated when he thought he might google search for a metal detector specialist. He was able to get my contact information. When he called me I was returning to Newport Beach, CA. from San Diego, CA.
I was able to tell him I could be at Laguna Beach in less than an hour. After hearing how the loss occurred it was easy to assure Aiman that my equipment could find the ring. He then texted me the address and agreed to wait at the location. The traffic conditions were perfect and when I arrived there was parking available only a half block away.We met on the beach and they told me what had happened when the loss happened. I complimented them for staying at the location saying, this will  be a quick recovery. Sometimes it takes hours to get back to an area once people walk off the beach.
Setting up my metal detector took longer than the actual recovery. The beautiful blue sapphire ring showed up in my scoop after just a few short swings of the search coil. Then the smiles were on both Aiman's and Susie's faces. These easy searches are still just as exciting for me as tougher searches. It's about helping people to get their cherished keepsakes back where they belong.
"I WILL TRY ANYWHERE"  call now ..   949-500-2136