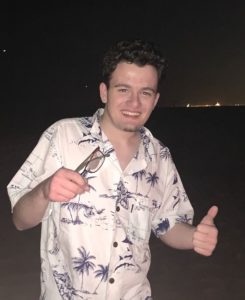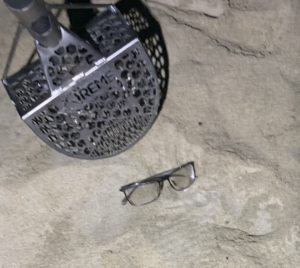 Craig called me at 6:30pm asking if I was available to help his son find his prescription glasses lost in the sand at Huntington State Beach. His son, John had lost the glasses in the sand while at a beach party with friends.
I was told by John's father that the area of the loss was quite small but after 2 hours of searching they needed help. It was dark when I arrived and we still had two hours to search before the beach closed.
The possible area of the loss was much larger after talking to John which isn't a problem. John believed his glasses may have fallen out of his pocket earlier while he coming from the parking lot to the firepit.  He said, he had to run across the sand to chase seagulls away from their food at the firepit. That was a couple hours before he realized the glasses were missing. He had also played some sort of game with a frisbee in another location.
It took about an hour to grid those first two areas. That's when John's father opted to leave wanting to thank me and call off the search. I was already on the site and felt another hour of searching would not be a problem. Twenty minutes later I got a nice signal that turned out to be John's glasses. case of searching outside the box. They were about 30 or 40ft. away from any path that John had suggested. 
It was another fun search with the bonus of seeing a big smile from John who truly appreciated the work I did for him. His dad Craig was the hero for finding me at TheRingFinders.com.