Lost Platinum Wedding Ring Second Beach (Sachuest Beach) Middletown Rhode Island… Found! While I was searching for another lost ring at second Beach Middletown RI, Rory flagged me down with the story of his lost ring. Ready to enjoy the summer beach day with his family, Rory took off with watch and wedding ring, placing them both on top of his t-shirt. Sometime later Rory was gathering his belongings and realized he didn't have his wedding ring – only 15 minutes later he looked up and saw me walking by with my metal detector. After listening to the story, it sounded like Rory knew exactly where his wedding ring was lost. I asked him to stay put in the beach spot until I finished searching for the other lost ring. Minutes later Rory showed where his cloths were and we cleared the area of chairs, a beach buggy, and sand toys. Rory was spot on with where he thought he lost his ring. One swing of my metal detector and another owner was reunited with a very sentimental possession! As always, it was a pleasure to help find a lost wedding ring!
Rory's Testimonial:
"My lucky day to run into Keith Wille on Second Beach in Middletown RI yesterday 15 minutes after I lost my wedding ring in the sand. Keith was walking by with another individual and assuming they were a couple of metal detection enthusiasts I asked Keith Wille for a favor to scan our area for the ring and he quickly obliged. What I didn't know until after he found it is that Keith is in the business of finding valuables for people who lose them and the individual, he was walking with was his client – another guy who had lost his ring the previous day! (Keith found that guys ring too!). Thank you Keith Wille and if anyone find themselves missing valuables in the New England area – call Keith quickly! www.metaldetectionkeithwille.com"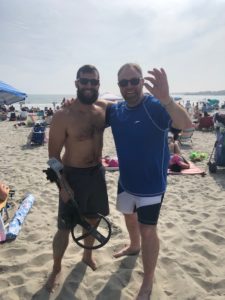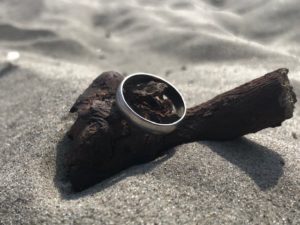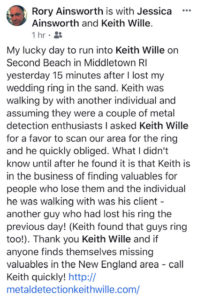 Lost wedding ring at the beach? Don't waste your time with a borrowing or renting a metal detector, have a professional member of The Ring Finders find you lost ring or jewelry. Serving Connecticut, Massachusetts, Rhode Island and short distances into other surrounding states, if you have a lost ring or other lost jewelry, contact me now through www.TheRingFinders.com or www.metaldetectionkeithwille.com or call me at 860-917-8947.
Keith Wille's Media Mentions:
https://www.nytimes.com/2017/01/16/science/archaeology-metal-detectorists-pequot.html?_r=1
http://www.newyorker.com/business/currency/the-lost-jewelry-hunters
http://www.wfsb.com//Clip/12684346/mans-missing-wedding-ring-found-at-waterford-beach#.V7693rpuG4k.email
http://www.theday.com/local/20160823/with-stroke-of-luck-waterford-resident-gets-his-ring-back
http://patch.com/connecticut/waterford/widower-embraces-man-after-finding-treasured-wedding-band-waterford-beach
https://www.thewesterlysun.com/news/surf-gives-back-ring-with-a-little-help/article_4252dcae-7f1c-5d66-8f39-376da5db5929.html