Jennifer's Lost Key
Dog Sitter's Client's D.C. House
My searches don't just deal with rings, and rings, and more rings! But every so often, I get the special phone call to conduct a search for a lost key or set of keys.
Jennifer is a professional dog sitter in the Washington D.C. area. She checked out a directory online called The Ring Finders and then contacted me early on a Sunday in late March to see if I could search for a key that she lost while taking one of her client's dogs out for a daily walk in Rock Creek Park in the District of Columbia. 
This key was not just any key! It belonged to her client's house who owned the dog that she was taking out that night in which it got lost! Not good! Especially because all of the locks pertaining to this key would have to be replaced if it was not recovered! Expensive indeed! There was also another serious factor. Jennifer mentioned to me the urgency of finding the lost key because there had been a number of auto thefts in recent days and weeks in the neighborhood. If the key fell into the wrong hands, this could put her client's family at risk for a break-in! Again, not good at all!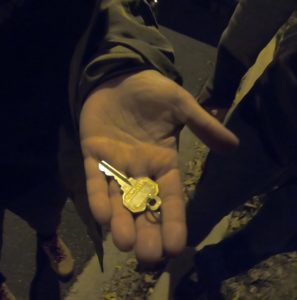 So, I immediately made my way into the District in the early evenin hours. Meeting Jennifer and her fiance' was a real pleasure! They were just as committed to the search as I was about to embark upon. The two of them searched all throughout the evening, the night before, and neither one of them had any luck in retrieving the key. That's why I was called in to help out.
​
I explained to the engaged couple that our job was to find the key together and that it didn't matter who ends up finding it! We just needed to get it back! I find that just my presence and abilities to find lost things, re-motivates the one who lost the item to partner up and make a new determination to get their prized possession back!
As a team, we set off to the park and retraced Jennifer's steps as best as possible to conduct the search. I probably spent a good 30 minutes metal detecting various parts of the park where Jennifer had walked the dog, before heading down a hill, along a path that took us towards a road at the bottom of that park section. I was pretty confident that the key was definitely not in the areas that we searched.
Jennifer's fiance', Edward, carefully looked to the left of the path that started to wind around a bend, while I detected along the right side of the walkway. No more than a couple of minutes had passed, (just as I had been encouraging the couple that the key could turn up in the very spot that they had looked over multiple times) when Edward excitedly announced that HE FOUND THE KEY! We were all elated! I was so happy for the lovely couple!
This story is an example of an item that was found as a result of us all working as a team and not just "handing over the keys" to the metal detectorist to solve the mystery! In this case, they actually said that they wouldn't have returned down to the lower section of the park (because they had already searched and searched the spot where the key was actually found and to no avail over and over again), had it not been for me having to search in the lower regions of the park path. So, we all played a part! They unnecessarily apologized to me for sending me to the search when it turned out that one of them ended up retrieving the key. I explained to them that I truly meant what I said earlier when I shared that this was to be a team effort! I stood behind my words because it's not about who finds the lost item, but rather it's about getting that item back! And in this case, time really was of the essence!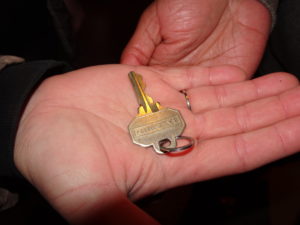 ​Jennifer contacted her clients with the fabulous news, which brought such relief to their minds, and then we headed back towards our cars at the entrance to the park.
​This recovery of the key was a story of team work! It didn't get any better with the outcome! I even had enough time that evening (it was 8pm by that point), to pick up a pizza, and drive to 2.5 hours to Philadelphia through the night to bring a birthday cake to my son, Danny, who turned twenty-one years old on this 31st of March! I had just celebrated with him on Friday through this Sunday, 1am this morning, because he finally became legal! I didn't want him to go to bed at the tail end of his birthday without some more cake! (He is in his third year of college at the time that this story is written). It was a fantastic day and night all around!
​
I told Edward that he was the hero that night in spotting the key! I also told him that this was great practice for him in regards to their future marriage! I said with a smile, "There will be a whole lot more opportunities, Edward! A whole lot more!" We all laughed while Jennifer hugged her best friend and hero of the night!
Check out the video of my search for the key with Jennifer and Edward!
CALL BRIAN RUDOLPH WITH THE RING FINDERS AT (301) 466-8644 AND HE WILL RETURN TO YOU WHAT HAS BEEN LOST!
SUBSCRIBE TODAY TO BRIAN'S SEARCH VIDEO YOUTUBE CHANNEL TO RECEIVE NOTIFICATIONS WHEN THIS LATEST SEARCH VIDEO IS UPLOADED! BRIAN'S SEARCH VIDEOS ARE FOUND ON HIS YOUTUBE CHANNEL – THE RING RETURNER.
CHECK OUT MORE OF BRIAN'S SEARCH VIDEOS ON BRIAN'S YOUTUBE CHANNEL: THE RING RETURNER AT: https://www.youtube.com/channel/UCmcn09QqWhHrj-7SGqlUBJQ
CHECK OUT BRIAN'S WEBSITE FOR MORE INFORMATION ON WHAT THIS RING FINDER IS ALL ABOUT!
READ MORE STORIES OF WHAT HE HAS DISCOVERED AND RETURNED!
VIEW THE MANY PEOPLE THAT BRIAN HAS BROUGHT LASTING SMILES TO!
VISIT HIS WEBSITE AT: WWW.THERINGRETURNER.COM