BRIAN RUDOLPH, LOST ITEM RECOVERY SPECIALIST (LAND, WATER, SAND, SNOW, LEAVES, HOUSES & VEHICLES) WILL FIND YOUR LOST KEEPSAKE! CALL ASAP (301) 466-8644!
Kristen and Nygel drove from Baltimore to Frederick Maryland looking forward to celebrating Oktoberfest out on a farm. In the six years that the couple had been dating, neither one of them encountered a situation quite like this one. Just moments after Nygel parked the vehicle on Summers Farm's grass field, Kristen lost her very special yellow gold ring with a large blue topaz and two diamonds (one on each side of the center stone). The young lady inherited it from her late grandma Dorothy who passed away the previous year.
Luckily, Kristen knew the very moment when the ring slipped off of her index finger. Just after she got out of the vehicle and began adjusting her pants, Kristen felt the ring come off. However, when she looked down on the ground to recover the jewel, it was nowhere to be found. It was if the family heirloom disappeared into thin air.
Nygel came around the car to assist his girlfriend and for the next hour, the two of them searched for the missing ring. Unfortunately, none of their efforts proved to be successful. The couple decided to leave the grassy parking lot for the time being in order to make the most of their visit to Summers Farm and they decided to deal with any further search attempts following their special autumn excursion.
During Kristen and Nygel's time out on the farm, they played in the cornfields, shot apples from the pumpkin canon and enjoyed eating all of the fun fall foods provided at the refreshment stands. Though the couple was quite entertained by all of the autumn festivities, the loss of Grandma Dorothy's ring weighed heavily upon Kristen's heart and mind.
Once Kristen and Nygel got back to their vehicle, the two of them searched for another hour with no happy results. They realized that they would have to return to the farm the following day with a metal detector in hand in order to try again to recover the gold topaz diamond ring. It made Kristen sick to her stomach to have to leave her precious keepsake behind until the next day. She couldn't even be so confident that the ring was still there in the grass. It could have already been spotted and picked up by someone else. Nonetheless, the two hoped for the best and planned to return the next morning.
Later that night, Kristen and her boyfriend searched online with the purpose in mind to find a metal detector rental service. Instead of locating a rental shop, THE RING FINDERS website popped up on the screen. They had never heard of the international directory of metal detectorists who specialize in finding lost rings and other precious keepsakes. They figured instead of trying to learn a detecting device that they knew nothing about (and with no guarantee that the detector would even help them find what was lost), they decided to seek out the professional help of one of the directory's ring finder in the local Frederick, Maryland area. This is where I come into the story.
Kristen contacted me immediately and I asked the distraught young lady every question regarding her particular situation. She did a great job of painting a clear picture as to what happened and what the environment was like where the ring was lost. Because I am familiar with Summers Farm, I knew that it was essential for us to meet at the farm as early as possible before the grass and dirt-covered parking lot would start to fill up with cars and trucks. I received the initial text from Kristen sometime around eight in the morning and by 9:30 a.m. I was already pulling into the farm's entrance and meeting up with my new clients.
The day was quite lovely outside and I remember encountering special feelings that rushed through my mind as I reminisced about the days of old when my family and I visited Summers during the Oktoberfest time of year. It brought me so much happiness to experience such a sentimental journey in returning once again to the same farm in order to help Kristen with this very important search.
Just as I was driving up the hill to the parking lot section where the couple directed me to meet them, I began to light up with the greatest smile ever due to what I witnessed in front of me. The couple was sitting in two chairs that were facing each other, separated by approximately 30 feet of grass between the two of them. They were guarding the search site, making certain that nobody would be able to park in the area where they believed the ring was lost the day before! I was very impressed! Also, I learned that Kristen and Nygel were sharp enough to think of tying some markers around the place where their vehicle was parked the day before so that they would know exactly where to resume the search the following day! That was brilliant thinking on their part! I commended both of them for taking that step to bring clarity as to where the ring was originally lost. The couple told me that they were doubly convinced that there was no way that they would find the ring after they searched for another 30 minutes while waiting for my arrival. They were so happy that I was willing to come to their rescue!
Once I got all of the details regarding where the couple believed they were parked and approximately where Kristen was standing when the ring fell off her finger, I returned to my vehicle to retrieve my metal detector and other gear to help me with this particular search. Methodically and consistently, I swung my detector's coil from left to right as I moved straight ahead towards the end of the first grid lane before turning around and beginning with the second grid line. I knew exactly the type of numbers and sounds that I was looking for on my machine and I had all the confidence in the world that if the ring was still there, I would eventually find it!
After I completed searching several more grid passes, I eventually hit a target signal that I was quite certain that it would end up being Kristen's ring. To my excitement and joy, the target that I knelt down to investigate with my handheld detector did in fact turn out to be Kristen's grandmother's ring! My eyes beheld an exquisite yellow gold band with a beautiful blue topaz and two diamonds flanking the large stone! The pretty jewel was hiding under some blades of grass that were bundled together and camouflaged amongst the dirt and wild plant life! I was so relieved that not only was the ring still there and that nobody found it, but also I was thrilled to discover that there was no damage to the family heirloom had a couple of radial tires trampled over it!
What a fun moment it was for me to recover such a priceless "symbol of love" that was handed down to Dorothy's beloved granddaughter a year earlier! I will never forget the tears that began to flow from the young lady's eyes and the smile that I could see on Nygel's face (even though his countenance was mostly covered by a face-mask) as I presented the keepsake back to its rightful owner! It's precious moments like these that constantly remind me why I love serving people in this way…recovering "lost stories" and returning smiles to people's faces like Kristen's!
Before I left the farm, the three of us thanked the Lord for answering our prayer that we jointly offered up to God prior to starting the search! Kristen and Nygel thanked me several more times for helping them recover the ring. In addition, we all agreed that though this problem occurred (which was quite stressful for the two of them to go through), at least it brought us all together and also we were at least surrounded by God's beautiful creation out on Summers Farm's property while conducting the search that morning! Lastly, with a giant smile on my face, I told Kristen and Nygel that I hoped that their next ring story would be a happy one – perhaps something to do with Nygel placing an additional band (engagement ring) on Kristen's finger sometime in the near future! I can't wait to hear that special news one day!
SUBSCRIBE TO BRIAN'S YOUTUBE CHANNEL TO VIEW THIS SEARCH VIDEO!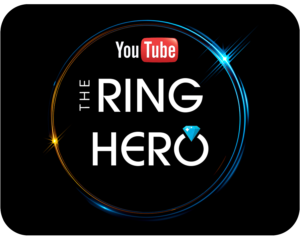 To receive a NOTIFICATION letting you know when the video is uploaded to YOUTUBE: go to YOUTUBE by CLICKING THE LINK BELOW or OPEN your YOUTUBE APP on your device, go to the SEARCH BAR, type: THE RING HERO, click SUBSCRIBE and lastly, CLICK ON THE "BELL" to receive NOTIFICATIONS when this latest search video is available to view! 
BRIAN'S YOUTUBE CHANNEL LINK: 
https://www.youtube.com/channel/UCmcn09QqWhHrj-7SGqlUBJQ
CALL BRIAN RUDOLPH WITH THE RING FINDERS AT (301) 466-8644!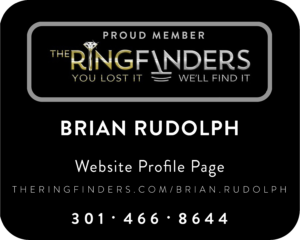 VISIT THE RING FINDER'S WEBSITE TO READ MORE OF BRIAN'S SUCCESSFUL SEARCH STORIES at:
TheRingFinders.com/Brian.Rudolph/
HE WILL RETURN TO YOU WHAT HAS BEEN LOST!
VISIT BRIAN'S PERSONAL WEBSITE FOR ADDITIONAL STORIES AND INFORMATION AT: www.TheRingHero.net