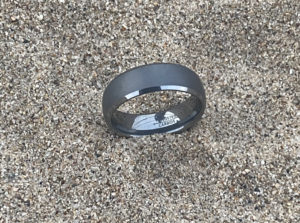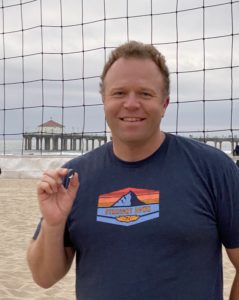 Metal Detecting Service .. Call Stan the Metal Detector Man ..  949-500-2136
… Chris was playing beach volleyball at Manhatten Beach, CA. when he lost his Tungsten wedding ring. He didn't feel it come off but he did know it was on before starting the game. Immediately after winning the game and before leaving the area around the volleyball court, he noticed his ring wasn't on his finger. 
Chris was given my contact information by one of his neighbors. He said he would be able to meet me at the location. When I arrived, I told him this could be an easy recovery because he called me and I was there within a couple hours of the loss.  To most people it seems that this would be a simple search, but I have been surprised by how far a ring lost playing volleyball can end up. I try not to get overconfident that it's going to be a fast recovery. 
Chris felt that it should be on the north side of the court. That's where I started my grid search. He stayed with me as I found a few coins and metal trash. After finishing that side of the volleyball net, I could see Chris was beginning to lose hope. For some reason he had felt the ring had to be in that area. I have found rings lost while playing volleyball in the strangest places. Volleyball players are very active and there is major hand motions.
Well, after 30 minutes, I moved to the south side of the net. On the second pass near the net. "Boom", a strong signal in my headphones which turned out to reveal the wedding ring in my sand scoop. Chris close  enough to me to hear the clanking of the heavy ring in my scoop. He knew we had found his ring. Big smile and a happy man to have his wedding ring back where it belongs.
Don't wait, call as soon as possible… Stan the Metal Detector Man …  949-500-2136  .. "I WILL TRY ANYWHERE