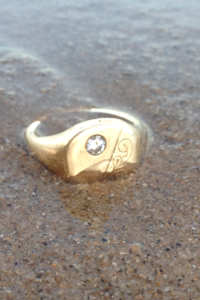 Monday 12th August found a very sad holiday maker packing his clothes into his suitcase preparing for his long journey home to Liverpool. Everything was there, ready and packed…. all bar his beautiful single diamond signet ring which once belonged to his farther. Mr Bill Owens of Liverpool caught a glimpse of the BBC TV report of The Ring Finders as he was packing and decided to try his luck as all else had failed to recover the ring.
After being swamped by a large wave the ring slipped off into 3-4  feet of rough sea waters approximately a week before and I explained the recovery might prove difficult. After 3 visits totaling 5 hours with very choppy waters, ripping currents and sea weed banks I hit pot luck. Suddenly through my  headphones my machine gave out an almighty cry like the noise of stepping on a dogs tail! Its a particular noise to detectorists who after many hours of fruitless, noiseless searches relish to hear. The ring was found 7 meters away than where it had been lost and probably shifted due to the strong currents.
The BBC had asked me to keep them informed of any successful recoveries and this one seemed particularly interesting to them. I am awaiting a copy of the program to upload on to the internet. Mr Owens was extremely grateful &  made a very generous donation to the Dorset & Somerset Air Ambulance.