I was at work when I received a call from a young lady who told me that her husband lost his gold wedding band in the sand just in front of their pop up tent. She said that they had looked for the ring but it was impossible to find with all the sand.
Strangely I was getting off work early that day and I was only 15 minutes away from there location. I headed over to the beach and found parking and met the young couple, he showed me what he was doing and where he felt the ring was lost.
I turned on my detector and the 3rd target about 1 minute the young man had his gold wedding band back on his hand! I love the stories attached to the rings I find and I'm just as happy to find it as they are to get it back!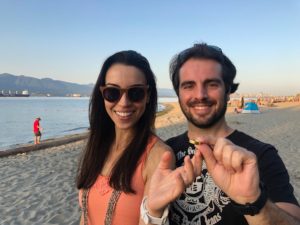 I love my job! If you lost your ring call me ASAP 778=838=3463Watch video of search below…
please share TheRingFinders.com with your friends and maybe we can help someone you know.