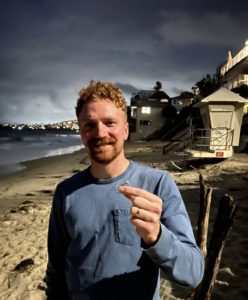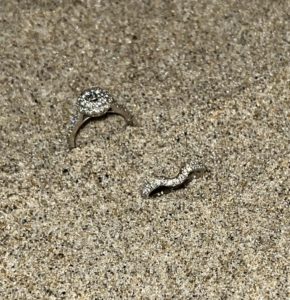 How to Find a Ring on the Beach …Laguna Beach, CA. .. Call a Member of TheRingFinders
                          .. Call Stan The Metal Detector Man .. ASAP .. 949-500-2136
*** Brian and his wife, Myriam had been staying a hotel at Laguna Beach. Every year they travel here from Las Vegas to enjoy the beach. This day had been disrupted by the loss of Marian's white gold diamond wedding ring set. They had been on the beach when they decided to move their small windbreaker tent. Actually they moved it to three different locations 40' to 50'from the first spot.
The rings had been taken off and put into a small pocket, of the windbreaker. They spent the whole afternoon trying to find the rings with their hands. The hotel management gave them my contact information. Brian called about 8:30 pm asking if I could search for the rings. He figured I would come in the morning. It sounded like this could be a easy search and it is only 7 or 8 miles drive. I told him we could do the search now, there is no need for his wife to worry about the rings any longer than she has to.
He sent me the hotel address and said, I would meet him on the beach in a half hour. Parking was not a problem at this time of night. Brian was on the beach to show me the three places the rings could be. I started at the first location with no luck, then the second location, not one metal signal from my detector. I could see a worried look on Brian's face as I was nearing the last few feet of searchable sand. Then, BOOM!! the first ring gave me a signal I knew had to be a ring. I held it up for Brian to see. Next two swings of the detector the second ring showed up in the scoop. 
We shared the joy of the recovery, but I didn't get to see his wife when she got the good news. Brian wanted to take the rings up to their hotel room for the surprise reveal of rings. Wedding rings are so special and personal, it has been my pleasure to help Brian and Myriam and many others recover the special symbols of love and marriage.
Timing is important call ASAP .. Stan the Metal Detector Man .. 949-500-2136  ..I Will Answer the Call.