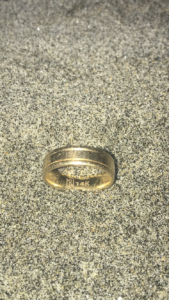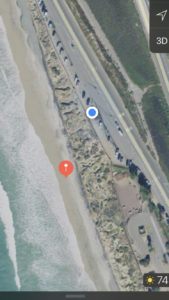 Theringfinders metal detector service helped find a lost Gold wedding ring at Carlsbad State beach. OPEN NOW; 760 889 2751
I received a text message from a gentleman who had lost his ring in the surf 2 days prior and asked for my help.He also posted on Craigslist in the lost and found add about the ring with a detailed location which is a big concern.I checked the tide book for the best time to search for it.The lowest tide was around midnight. So I set my alarm and slept a few hours before hand with one eye open.
As I showed up to the scene of the lost ring I was surprised not to see other metal detector guys scouring the exact area to maybe help? Or maybe to score some gold for their collection? As I began searching I could see 2 headlamps nearly a 1/4 mile down the beach going in & out of the water. Hmmm..I thought?  Ironically enough it was 2 Metal Detector Guys. I'm not sure what they were searching for or if they had any luck with Gold in da scoop though?
After 30min of scanning using only the moonlight to see I came across a special signal that was a non-ferrous metal about 6-8inches deep. I dug it up and there was his precious wedding ring in my hand.
The next morning I sent a picture of the ring to the owner who confirmed it was his and then drove to the post office to mail it back east as he was just returning home from their vacation in San Diego.
Another successful hunt with a happy ending.
"WHO YA GONNA CALL?"