Lost Platinum Wedding Band Posted Publicly Online.
"WHO YA GONNA CALL?"
This morning Me and John Hughes My Ringfinder Partner and friend  had Noticed an add On C.L By a lady whom had lost her Ring.We sent an email that we could help find it along with a link to TheRingfinders web page and Our Famous Fox 5 News Return, hoping she call us soon…. We then drove to S ponto beach to wait.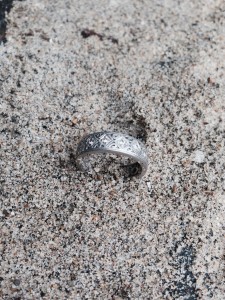 At 5:01 am I saw an Unknown Metal detector guy in the dark with a headlamp unknown to the local community and No history of Returning found items is there obviously searching for Her ring.I asked him polititley if he had any luck and if he's looking for a lost ring…He denies,So I Then I said (have a good day & good luck 🙂
Me and John Geared up Headed 50′ South of  To began our search Gridding ….Hoping the owner would call Us,,Time is ticking on this now we gotta find it soon…
1hr later Just towards the end of our long vigorous search and that last hope in an area  where The unknown detectorist had already dug around I get a signal,… an unmistakable Crystal clear BEEP….2 scoops in the wet sand and her ring is now in my Hand:)
John  made contact with the owner via email earlier and we were waiting for her call So I emailed her again saying    "I believe I found Your Ring" please call me!
Soon then after I left the beach clean of all Trash ……I get a phone call From Tristian The owner who is Very thrilled I found it.. I Immediately met her nearby and She was Reunited with her Lost Platinum Diamond Ring :).
The smiles we get are worth every Pennie and My Metal detector is a gift that Gives Back!
We are on call …Please call/Text/email Me or John Hughes FIRST we are well trusted and referred by the life guards in san diego