I went out on a ring find to Hapuna Beach after getting a late night call the previous evening from a distressed dad.
Jim had been playing catch in the water with his new son-in-law, while his daughter relaxed and read her book in the sand. After a short while the guys started egging her on to play with so reluctantly, Whitney joined them.
After Whitney caught a throw, Jim went after her in the surf to get the ball in a good-natured tackle. She stood up to find both her new engagement and wedding rings had gone flying.
That night when we got the call, Jim said Whitney was inconsolable. They'd stayed until the beach closed, trying to see a glimmer of the diamond cluster on the engagement ring, or waving gold of her new wedding band. Unfortunately, sand swallows most rings…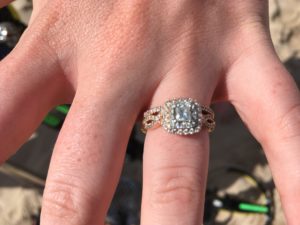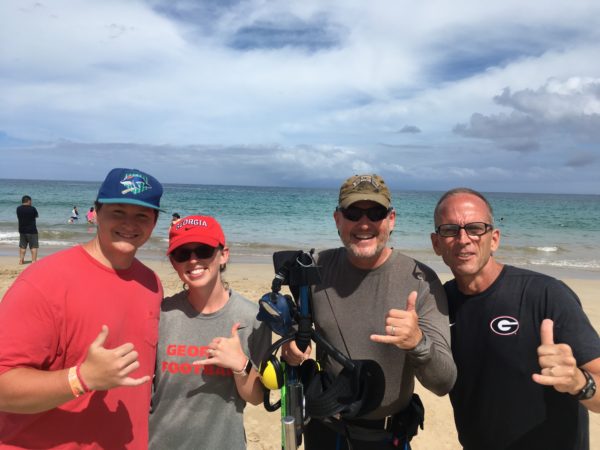 They met me in the morning at the spot in the surf. To my dismay, there were two detectorists already in the water nearby. I met Jim, Whitney and her new husband and started searching right away.
I was relieved to see that the two other detectorists were friends of mine, both of whom have collaborated with me in the past to return rings. Gregg was heading my way and he offered to help. After 30 minutes, I wasn't having any luck and was happy to have the extra set of ears and eyes trying to find Whitney's lost rings.
Within a few minutes Gregg called me over and showed me a glinting diamond ring in his basket. Jim and Whitney came running over and hugged me, Gregg and each other! Whitney's husband was close behind and patted us on the shoulder and shook hands. Jim shed a few tears too – I think he'd been even more upset than his daughter!
Gregg went down the beach and I continued looking for the second ring. About 20 minutes later, and not far from the first, I got a strong signal and within moments had returned the diamond-studded wedding band.
It took two of us detectorists to find the two rings – and we were glad that Whitney was reunited with her treasures! Unfortunately I didn't get the photo of us two detectorists but nonetheless, thanks for the help Gregg! Vacation saved!