"I threw my ring". Have you or your significant other ever declared those words after a heated argument? It's more common than you think.
Brian Rudolph, Lost Item Recovery Specialist (Land, Water, Sand, Snow, Leaves, Cliffs, Houses & Vehicles) Will Find Your Lost Keepsake! Call ASAP (301) 466-8644!
As a professional ring finder (who is also a proud member on the elite international directory of metal detectorists called THE RING FINDERS), I hear my clients say this line quite often. They end up getting into some kind of verbal disagreement and eventually the most precious sentimental keepsakes go flying into the yard, parking lot, street or sometimes out into the water. Here is an example of such an incident.
Kim and Bill got into some kind of argument and eventually the lady took her frustrations out on her welded together yellow gold and diamond engagement ring, yellow gold and diamond wedding band and anniversary ring.
Kim opened up the front door and proceeded to throw her three rings out towards the front yard. She was so angry that she didn't care to go looking for the rings and if her husband wanted to recover them, he would have to go out and find them himself. That's exactly what he attempted to do.
Bill spent hours out on his front yard looking for the wedding band, engagement ring and anniversary ring that once represented so much love between the two of them. The helpless gentleman even rented a metal detector and that proved to be unsuccessful, as well. When Bill couldn't find the rings, Kim thought that maybe the jewelry ended up on a branch in the tree since she remembered throwing the rings in that direction.
Eventually at some point, Bill went online and he found THE RING FINDERS and the metal detecting services that I provide in the Baltimore, Maryland area.
Because I have heard the words "I threw my ring(s)" or "my spouse (or fiancé) threw their ring(s)" my very first question with my client is: "Was there any tension between you and your significant other that caused the disappearance of the ring(s)?" The individual feels extremely safe with me and they immediately come out with the truth in regards to how the piece of jewelry ended up missing.
The poor guy shared everything that took place and I immediately set up a time for me to come out and help Bill find the lost rings.
Later that day, I was on the road towards Cockeysville, Maryland where the couple resided. Kim did not want to be there nor did she want anything to do with the search, so I relied completely upon her remembrance of where she threw the rings and in what direction at the time that the fight ensued.
Once I arrived, Bill showed me where his spouse was standing when she threw the rings and in what direction she believed they flew. I asked him if she mentioned how hard she threw the rings and he said that Kim did not use all of her energy to launch the poor halos.
As soon as I got off the details, I returned to my car and retrieved all of the equipment necessary to conduct my search. I laid out grid lines all along the front lawn and immediately started metal detecting the first lane that I had created.
Bill's biggest fear was that the rings landed beyond his front lawn and ended up on the sidewalk or perhaps even the street. In that case, someone would have already found the precious metal and stones and our search would end up being all for nothing.
After scanning the first lane, I continued the search by detecting the next one. Still, there were no rings to be found. I then started on the third lane and that's when I hit a promising target signal that was located just a few feet from the tree in the middle of the grass.
I got down on my knees to the ground and took out my pinpointer to identify exactly where the object was hiding below. I could tell instantly that whatever this piece of metal was, it was definitely hidden between the blades of grass above the dirt.
Just as I separated some of the well fertilized plant life in front of me, I could make out what appeared to be a piece of yellow gold jewelry resting a few inches below the tips of the grass line! I then instantly knew that I had found the missing rings! I could not have been more excited for Kim and of course Bill who was anxiously waiting to see what I would uncover!
Minutes later I surprised my client with the three most beautiful gold and diamond rings! He could not believe that I found the missing jewelry so quickly. He wanted to know how far away from the tree did the rings end up within the grass. I told him less than five feet from where the couple thought that the rings most likely came to rest. Bill was so in shock that he had used his rented metal detector and scanned over the same exact spots where I ended up finding the missing rings and yet he could not pull them from the lawn.
I explained to my client that experience and quality equipment is always going to be the right combination versus renting or buying a metal detector that one doesn't know how to use properly.
A little while after I left Bill's residence, my client had the pleasure of surprising his bride with her most precious keepsakes. His strategy in hiring me to find her lost rings most certainly scored points and healed some of the wounds that the two incurred a couple of days earlier.
This story is another example of how a bit of anxiety can cause those little halos around our fingers to end up going airborne. Hopefully you will never say the words, "I threw my ring", but if you do, there is someone to call when checking out THE RING FINDERS directory.
SUBSCRIBE TO BRIAN'S YOUTUBE CHANNEL TO VIEW THIS SEARCH VIDEO!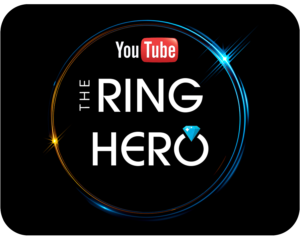 To receive a NOTIFICATION letting you know when the video is uploaded to YOUTUBE: go to YOUTUBE by CLICKING THE LINK BELOW or OPEN your YOUTUBE APP on your device, go to the SEARCH BAR, type: THE RING HERO, click SUBSCRIBE and lastly, CLICK ON THE "BELL" to receive NOTIFICATIONS when this latest search video is available to view! 
BRIAN'S YOUTUBE CHANNEL LINK: 
https://www.youtube.com/channel/UCmcn09QqWhHrj-7SGqlUBJQ
CALL BRIAN RUDOLPH WITH THE RING FINDERS AT (301) 466-8644!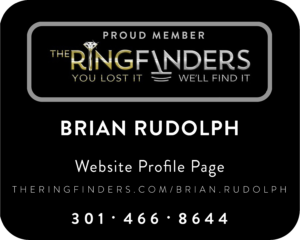 VISIT THE RING FINDER'S WEBSITE TO READ MORE OF BRIAN'S SUCCESSFUL SEARCH STORIES at:
TheRingFinders.com/Brian.Rudolph/
HE WILL RETURN TO YOU WHAT HAS BEEN LOST!
VISIT BRIAN'S BUSINESS WEBSITE FOR ADDITIONAL SERVICES, STORIES AND INFORMATION AT: www.MetalDetectingAdventures.net