BRIAN RUDOLPH, LOST ITEM RECOVERY SPECIALIST (LAND, WATER, SAND, HOUSES & VEHICLES) WILL FIND YOUR LOST KEEPSAKE! CALL ASAP (301) 466-8644!
Who doesn't like to experience a great adventure? Being a member of THE RING FINDERS takes me to exciting places with fascinating stories attached to the searches that I embark upon. This story has all of those twists and turns that define such an adventure!
On September 6, 2019, a terrible car accident took place in the Maryland city of Big Pool. Reporter Tamela Baker of Herald-Mail Media reported the story as follows:
"I-70 Crash Sends One to Hospital
BIG POOL — A single-vehicle crash Friday that closed both westbound lanes of Interstate 70 at mile marker 9 near Big Pool, sent one person to the hospital, according to Maryland State Police.
A spokesman for the Hagerstown barrack said the vehicle, a 2019 Chrysler Pacifica, was traveling westbound when it struck median guardrails on both sides of the road and went over an embankment.
The driver was transported to Meritus Medical Center near Hagerstown, police said. Two dogs that were in the vehicle were transported to a shelter.
The accident occurred at 3:26 p.m.; lanes were reopened at about 6:30 p.m.."
In addition to this basic news report, the man that was critically injured in the accident permanently lost the use of one arm (there is some speculation that the arm, sadly, had to be amputated).
When something as horrific as this particular tragedy happens, nobody is thinking that there could possibly be a sub-story attached to what was already a near fatal situation with this particular driver. The news reporters never got wind of the rest of the story that you are about to read.
I received an email from a young lady named Hannah whose husband named Ross is an officer in the United States Marine Corps stationed at Quantico Base in Virginia. The couple were on their way to attend a wedding in Indiana. Just as they were driving through Big Pool, Maryland, the accident which I described above had just taken place. Ross, being trained to act on instinct in emergency situations, jumped out of his vehicle and ran to the site of the endangered passenger whose vehicle was leaning on edge over a cliff. The car was resting between a tree and a large rock and nothing else. If the driver were to have climbed out of the vehicle, he, his two dogs and whatever else that was left of the demolished car would have plummeted down a thousand or more feet into the ravine that was filled with rocks and water below.
The driver of the vehicle was severely injured due to his car spinning out of control, hitting the guardrail on the left side of the highway and then ricocheting over to the far right guardrail which was located just feet from a bridge. The vehicle happened to break through the guardrail and fell approximately 50 feet down the very steep cliff. Parts of the driver's body were crushed in the wreckage. Miraculously, the two canines survived with minor scratches. No reason was publicly reported as to why the man's car spun out of control which caused such a devastating accident. It remains a mystery to this day.
Ross leapt over the mangled guardrail and rushed down the precipice to the aid of the poor man who was virtually moments away from losing his life. Had the distressed man not listened to the instructions of the "Good Samaritan", he easily would have caused the vehicle to move from its position and crash at the bottom of the ravine. Without realizing how steep the rock face was, the moment that Ross got to the other side of the guardrail, he ended up sliding down the cliff, off to the side and further below where the vehicle came to rest. He slid down maybe about 35 feet or so, attempting to grab ahold of whatever he could to stop the fall. Eventually, Ross was able to hold onto the trunk of a very small tree which happened to be near where he had faltered. Once he found whatever else he could grab onto in order to support his weight, the Marine pushed himself back up the ridge to reach the greatly injured man who was trapped in the car.
Knowing how dangerous it was for the driver to attempt to get out of the vehicle, the Marine gave specific instructions to the man to stay calm and to remain inside the car until emergency crews arrived. The brave soldier made his way over to where the car was leaning so vulnerably off the escarpment and continued to restate what he told the man to do when the driver attempted to escape from the front passenger window. The territory where the car came to rest was so dangerous, that if Ross moved slightly to one side or the other, he himself could have fallen down into the ravine. There was no way anybody would survive a fall like that at that height.
The man listened to Ross by returning to his seat where he waited for emergency personnel and paramedics to arrive. As indicated above, for the next several hours, all traffic was stopped in each direction for miles and miles. In a matter of minutes, the focus would be on the first responders' efforts in freeing the poor man and his two pets from the horrible wreckage.
Once the crews took over at the crash site, Ross continued to assist the emergency personnel in every way possible until his heroic actions had come to fruition – all three of the passengers were cut out of the vehicle and brought up to safety! Now that the rescue operation was near over, he and a few others were helped up the side of the crag and the Marine eventually walked back to his vehicle to reunite with his wife. It was an extremely emotional and physical experience for Ross who was there just at the right time to help save a man from certain death. The highway was reopened and the couple resumed their travels to Indiana.
After an hour of driving passed the accident in Big Pool, Maryland, Ross noticed that his yellow 14 karat gold wedding band was no longer on his finger. The utter shock of the disappearance of his ring caused him to reassess where he was the last time he saw the ring, and he was certain that he wore it out of the house earlier that day. He retraced all of his steps as to where he was after he left the house with his wife and the only place that he felt that the ring could have come off was at the crash site when he went to help the distressed crash victim. With no hesitation, they decided to turn their vehicle around and travel another hour back to Big Pool, Maryland in search of Ross's lost gold wedding band.
When Ross and Hannah arrived back at the bridge, the Marine, who so valiantly helped with the rescue earlier, received special permission to search the area where he lost his balance when he stumbled down the cliff. Unfortunately, he was not able to locate the wedding band anywhere. He was quite limited in his search locations because the bluff was way too steep to be moving around without proper climbing gear. At some point he gave up and headed back to his car empty handed.
The man was pretty down about losing the ring. So much so that the couple canceled their plans to attend the wedding and instead, drove two more hours back to Quantico Base in Virginia to search their house just in case Ross had been mistaken about remembering that he put the ring on before leaving on their trip. Sadly, the cherished wedding band was not to be found anywhere in the house. The couple concluded with little doubt that the ring had most likely come off during the rescue operation. In the days that followed the disappearance of Ross's ring, the couple would contact various emergency departments and the towing company to see if his ring had been found by anybody. Nothing was turned in.
Anyone's wedding band is special enough to do whatever possible to recover such a sentimental and meaningful piece of jewelry. However, there are some family heirlooms that have even deeper meanings and hold more emotional weight than just the average wedding ring. Let me explain. Ross's yellow gold wedding band had previously belonged to his father who sadly passed away when Ross was only 18 years old. The family decided that he should be the recipient of the special keepsake that had been worn on his father's finger since the day his dad had gotten married back in 1983. The date of Ross's father's wedding was inscribed inside the band and when Ross got married a few years ago, his wedding date was inscribed next to his father's date. This was one of the most important possessions that Ross had in his life. In addition to that, the significance of the band was even more elevated because it was the very ring that Ross's bride placed upon his finger on their beloved wedding day, as well.
Because of the great determination within Ross to recover his lost wedding band, the Marine went to a local outdoor sporting shop and purchased repelling equipment in order for him to safely work his way down the cliff and search for the missing ring. Ross also acquired a metal detector to scan the area where he thought the band came off. Nothing was going to stop this man from recovering what was so precious to him. The couple drove two hours back to Big Pool where Ross descended down the rock face and did some metal detecting to see if the ring would appear. There was constant beeping of signals coming from the machine, and at times it was really hard to make sense of any of it. It appeared that metal was coming from everywhere, according to what Hannah conveyed to me. Sadly, he could not find the jewel.
After a few hours of searching, the couple had to return home. Yet, this would not be the last trip that Ross would make back to the crash site. Again, he and his wife returned a couple of more times in search of the ring that was once worn by his late father. Regretfully, the ghostly site of where a man's life literally hung in the balance would still not give up the gold that Ross was in search of all that time.
The clock hands continued to move along and so did Ross with his new assignment in Kuwait where he would live for the next 7 months. He had pretty much resolved that his precious wedding band was non-recoverable. Even if he wanted to try again to find the ring at the crash site, there was no way he could even consider returning to Big Pool for a long time because he was about to board a military plane bound for the Middle East.
In my experience, there are some situations in life that are just meant to work out. Even though everything up to this point was full of disappointment and despair, the story was not going to end with all of Ross's failed attempts in recovering his beloved keepsake. After 2 months had passed since Ross lost the ring, Hannah received a phone call in mid November from her mother in Indiana.  She shared with her daughter that Hannah's brother stumbled upon an article regarding a directory of metal detectorists called THE RING FINDERS. The article that he read had to do with a lost ring that was recovered by a member of THE RING FINDERS somewhere on a summer camp property in Indiana. Her family thought that this could be the answer that the couple was looking for in order to recover Ross's ring. Hannah got excited and searched for a member of THE RING FINDERS who provided metal detecting services in Maryland. That's when my name, Brian Rudolph, popped up. Hannah then proceeded to send an email to me sharing the background of the story and requesting my services. This is what she typed.
"Good morning Brian, my name is Hannah and I was wondering if you travel to Big Pool, Maryland. My husband and I were traveling from Virginia to Indiana for a wedding when we saw a hole in the guardrail heading down to Lick Run River. A man had swerved off the road and flew down the riverbank where his car was wedged in between a rock and a tree on its side with the passenger side facing up. Other people who were beginning to stop were just standing on the bridge yelling at him to stay in the car. He had a big gash on his head and was clearly confused. He was still trying to climb out of the passenger's side window and he would have fallen a lot farther down to the river and rocks below if he had gotten out. My husband is an officer in the United States Marine Corps and he quickly without hesitation, slid down to the man so he could get a closer talk with him and keep him calm. He stayed down there for 20 minutes until emergency services arrived. He came back up, we got back in the car, and got back on the road. About an hour later he realized his ring was gone. This ring was his father's who he lost when he was 18 and it means the world to him. We immediately turned around and went back. Thankfully, the emergency crew allowed him to go down and look but not for very long, and he was unable to find it. He went back the next three days with repelling gear for stability and a metal detector, and still nothing. This was a month or so ago and I wish I would have contacted you sooner, but I had no idea the services even existed. They pulled the car straight up and out so it did not go over where my husband was standing or where the ring could be. I also reached out to all responding stations and no one out on the calls saw it or picked it up. We are 100% certain it is out there and I would love to surprise my husband with his father's ring when he gets home from deployment in May. I know this is a crazy story and you probably don't look on the side of cliff's and on the side of the highway. But if you could just please take a look at the pictures that I have attached and consider trying to find this ring, it would mean the world to my husband and myself. My phone number is… Thank you so much for your consideration. Hannah"
After reviewing the photos that Hannah sent me that were attached to her email requesting my help, I immediately called the young lady on the phone and we had a long discussion covering every detail in order for me to determine if I was in a position to help this couple. I loved the story of how this brave Marine was trying to save another man's life and in the process he ended up losing his ring. That wedding band meant the world to him and I wanted to get it back! Though this looked like a very complicated scenario, I was quite intrigued by the elements of this drama and I couldn't be more excited to attempt a recovery effort. I told Hannah I would take on the challenge and see what I could do to get Ross's ring back on his finger upon his return home from Kuwait. She was thrilled that I was willing to take this project on! My next step was to request any additional photographs and information that Hannah had not already provided in order to help in my recovery efforts.
Hannah sent over several more photos that she had taken at the crash site, as well as pictures of Ross after he repelled down to the first possible location where he thought the ring could have ended up. Then, we regrouped on the phone and the helpful young lady described each of the images so that I had a better idea of where Ross had been searching based on where he remembered losing his footing. I recall spending a very long time analyzing and re-examining the photos, calling Hannah back up again and asking her more questions for clarity. Then, I would go back to the photos to study them again and again as if I was actually right there at the search site.
It was clear from the angle of the cliff that I would definitely need to bring climbing gear to safely repel down to the areas where I needed to metal detect. There wasn't just one location to check out, but there were several possible spots that I needed to spend time investigating and this could take quite a bit of time down along the precipice. This meant that I needed to be safely secured by more than one climbing line for a good period of time while doing my extensive search. The fact that Ross did not find the ring after multiple attempts (even though he was not an experienced metal detectorist) told me that this was not going to be an easy and obvious discovery. Yet, I couldn't wait to take on the challenge! So much so that when I sent over some paperwork for Hannah to fill out, I ended my email with these words:
"I look forward to getting the ring back to Ross!"
I told Hannah to give me five days to prepare for my first search attempt at the crash site and then I would start metal detecting the area. I couldn't wait!
Search Day 1
In the days leading up to this first trip to Big Pool, Maryland, I gathered up all the necessary gear that I would need to repel down the cliff in order to give myself the best opportunity to clear out a lot of area with my metal detector. I prepared my backpacks full of various climbing ropes, all the necessary repelling gear, safety helmet, gloves, metal detecting machines, tools and accessories. I figured that as soon as I made it to the side of the cliff, I didn't want to have to keep going back to the car to get any gear or perhaps forget to bring necessary items from home. On the contrary, I wanted to remain in the search location as long as possible without any delays. I can't tell you how many hours of preparation went into making sure that I didn't allow any room for mistakes. My first trip to the search site was designed to get settled and familiar with my surroundings along with searching as much territory as I could. However, I really did not want to rush any steps that were necessary to take prior to picking up the metal detector on the side of that ridge. My safety was the most important preoccupation. Then, second to that, studying the scenery and looking at the photos on my phone to get a clear picture of all of the spots where Ross had moved about. There were a few key areas where the Marine may have lost the ring once he got over to the other side of the broken guardrail, faltering down the crag to where he eventually stopped his fall.
Just before taking off on this wild ring recovery adventure, I texted Hannah and asked her to please stop what she was doing at some point and pray to the Lord and ask for His favor upon me that He would guide me right to the ring! She texted back and shared:
"Oh trust me I am! And also the family of the person who was in the crash, they are praying, as well. Both of our families are! You have tons of prayer!"
I was really encouraged to hear that all of those people, including Hannah had my back in prayer regarding this difficult task in front of me!
It was sometime in the early afternoon when I finally arrived at the search site. I parked over on the shoulder as far over as possible because of the speeding cars and trucks that were barreling down that highway and across the bridge. I immediately set up traffic cones around my car and pulled out all of my gear to start heading towards the corner of the bridge. The section where the guardrail was ripped apart by the out-of-control car, was now replaced with new steel reinforcement. All over the ground were plenty of left-behind-pieces of the destroyed vehicle that once housed the driver and the two poor canine passengers. It was eerie to say the least.
I will never forget the moment when I looked down the cliff for the first time. It was very clear that there was no way that I was going to make it safely down that decline without proper repelling equipment. I used several ropes for the repelling procedures. I set up one that was tied to the guardrail and a second one that was secured around a tree downhill a bit. I fastened all of my gear upon my back and over my shoulder and then repelled down the cliff about 45 feet or so until my hiking boots were well planted on a concrete slab covered with debris that was probably at a 70° angle. You never felt like you were secure on your feet without having the ropes securely fastened to the climbing harness. It was way too dangerous to search that cliff without being securely fastened to those necessary ropes. The drop below was very scary just looking down into the ravine.
Once I placed all of my gear on a particular spot along the ridge, I began taking pictures all around where I was resting along the rock. I wanted to make sure that I had captured various visual points to reference later on just in case I didn't find the ring on my first attempt. That way I could study my surroundings and make any additional phone calls to Hannah to ask her any other questions that I may end up having. In comparing Hannah's photos to my current view of things, it was fascinating how the seasons changed so rapidly in the past 10 weeks or so since Ross and Hannah had searched the rock face. Now, the once green leaves that so youthfully danced upon the branches of the trees above, had already fallen to the ground, aged with endless colors that softly whispered rumors of what tragically took place here at this very spot just a couple of months earlier. So much had changed since Ross's boots touched down on the side of this cliff in search of the precious wedding band that he once shared with his late father.
I was amazed at what I saw at the search site. Vehicle parts and pieces were scattered about everywhere. One moment I would find part of the front grill, and the next minute I would stumble upon the horn. I identified the large rock and tree where the car had been suspended above the terrifying ravine below. I thought to myself how frightening it must have been for that driver to have his vehicle seesawing on one side in such a vulnerable position! It was so high up overlooking endless rocks, boulders and water below. So much drama had taken place at this very spot and the mystery of the missing wedding band was left to be solved! I couldn't wait to see where all of this would lead to! I was so hoping that somewhere in the midst of all the ghostly remains, there would be a piece of gold waiting for me to recover so I could soon return it to its rightful owner!
As it turned out, the moment that I began metal detecting, I ended up getting a call to assist my wife with an immediate need. Family comes first, so I gathered up all of my gear and climbed back up to the top of the cliff, released the ropes, packed everything up and headed for the car. I left the search site and returned later to continue my efforts.
Then, later that afternoon, after driving all the way back up the mountain to return to the search site for a second visit, setting up my all my gear, repelling down the side of the cliff, once again I was called away for another important matter that I needed to attend to. It was clear that this first search day was not going to involve any metal detecting at all. However, I was very happy to get a good idea of the layout of the environment as shown in the photographs taken at the site two months earlier. In addition, it was helpful for me to initially get comfortable with my surroundings.
I would return the next day, with the hope that I would have a wide range of uninterrupted time in order for me to effectively metal detect the crash site.
Search Day 2
Though I was completely exhausted from all of the driving the day before, I was re-charged and ready to resume my search for Ross's lost ring. I believe I arrived back in Big Pool sometime around eleven in the morning. I first stopped at one of the truck stops right off of Route 70, which was a couple of exits away from the search site. I fueled up and prepped all of my gear, organizing a couple backpacks full of climbing equipment that I had used from the day before. I wanted to make sure that everything was in place and ready to be utilized when I got back to the cliff. Next, I called Hannah and we had a video conference. I interviewed her and captured the background to the story of the lost wedding band before starting up the car and heading to the bridge. I told Ross's wife that I would do everything I could to recover the ring.
It was getting much colder as it was approaching the last week of November. The climate up there in the mountains also brought about a chill that would blow through the area where I was working. Hannah was very appreciative of my determination and positive attitude that I was not going to give up until I got that ring back for her beloved Marine. I was not only passionate about wanting to get the ring back for Ross, but I felt like I was doing something for his father, though he was no longer living. I know that this recovery mission would have meant the world to his dad if he knew what had disappeared when his son did such a brave and heroic act in trying to save the life of the driver who was attempting to get out of the vehicle.
Hannah and I ended the video conference call and I headed for the search and recovery site. I went through the same steps as I did the day before: I parked as far over on the shoulder as possible (Frankly, it was not a very safe place to park your car, but it was the best I could do with the location of where the accident had occurred.), placed the emergency cones up around my vehicle, quickly pulled out all of my climbing gear along with the metal detector bag with two detectors inside, video and photography equipment, climbing helmet, gloves, additional cold-weather clothing with balaclava and an extra outer shell where it zips up over my pants and jacket. The last thing I pulled out was the metal detector harness. I believe I was already wearing the repelling harness.
Immediately upon getting to where the guard rail had originally been torn up, I fastened my ropes and attached the equipment to my climber's harness and set myself up to repel down the side of the cliff and return to the original location where I first started to metal detect the day before. Now that I had been to the search site a couple of times, I was very comfortable with my surroundings and I could easily evaluate where I could move about and where not to step. What I mean by this is that there were multiple spots where I thought there was solid ground, but it turned out to be just loose dirt and leaves that covered over very delicate ground. The moment that I placed weight on those areas, my feet would come out from underneath me and I would begin to fall. That's why the climbing gear was absolutely essential and I would have never been able to conduct this recovery mission without all of the repelling equipment that I brought to the site.
Once I finished throwing a secondary emergency rope around one of the trees and secured the second line to my harness with my Grigri belay device and attached one of two ascension ascenders, I felt comfortable to start moving around various spots and metal detect each hotspot slowly and carefully to see if the ring would turn up. I methodically moved about one section at a time and when I couldn't find it in one area, I would finish the swings and move to the next possible target location. This was well coordinated because I had reviewed the fantastic photos that Hannah circled and provided for me to use with what she remembered Ross indicated when he had been on his own quest for his missing wedding band.
Ironically, my biggest obstacle in searching for Ross's ring wasn't the dangerous crag that I was hanging on the side of. It actually was the sheets of metal that were hidden under the rock and dirt. Let me explain. Apparently, that whole area where I was looking for the ring was part natural rock formation and part man made construction. The bridge that was beside me was reinforced by the concrete bases on either side of the ravine that secured the weight of the structure and its load. So, much of the old dirt, trees and plants located where I was initially detecting on one side of the crash site were natural to the environment but growing on top of man's ingenious creations. The other section of the cliff where the vehicle came to rest, was all natural rock and trees.
In sharing all the detail that I just did, my point was to say that metal detecting the area was extremely difficult, frustrating and nearly impossible. In fact, my search time was separated into several sections:
Experimenting and adjusting settings with my detector as I detected a sample of metal rebar. I needed to see if I could get separation between the large metal sheets below and the tiny gold object that might be resting above it. I had no success with my 15 inch coil that I was using on one of my Equinox 800's at the time.
Sifting by hand through dirt, leaves, small rocks and much vehicle glass to see if I could "eyeball" the wedding band.
Metal detecting limited places that were free from the metal reinforcements hidden underneath the ground.

After dealing with so much interference coming from the metal slabs below, I came to realize the degree of difficulty this search entailed. It wasn't just the existing danger and distraction of having to carefully maneuver my body, my detecting equipment and climbing gear from one side of the cliff to the other. But in addition to that, it was the lack of clarity coming from the target signals to my headphones. This may have been the reason that Ross couldn't find success on any of his 3 attempts at the recovery site. Effective metal detecting would have been nearly impossible considering his lack of experience detecting and the tough environment that he was competing against where he couldn't make sense out of his target signals coming from the wall of metal that was so prevalent. I thought to myself as I tried to make sense of what I was working with, 'The metal rebar may be masking our cherished gold target that we have been looking for'.

After about five hours of searching, checking all of the spots that were indicated by the photographs and testimony from what Hannah had shared with me, the wedding band still did not show up. I moved around to different places on the side of the ridge, using the ropes as perfect swings as I leaned forward with my detector to scan the mountainside. Still nothing of importance was discovered. Hannah's husband had come out several times before I started my searches and between the two of us, up to this point, we were both still coming up empty handed.

I only focused on the side of the cliff where Ross had slid down and where he propped himself back up and moved back up to higher ground in order to communicate with the driver to remain calm and not to remove himself from the vehicle. I did not focus on the other side where Ross had briefly moved over to continue helping the distressed man. Also, I did not take my gear to the next level down the rock face at that point in my search. It would prove necessary to attack that area, just in case the ring possibly rolled further below the escarpment or that it was accidentally pushed down to the next tier of rock, dirt and leaves.

Those other spots would have to wait for another search date because I had expended all of my time and it was getting quite cold outside after all of those hours of searching. I did not want to leave the location, but I knew that my time was up. Night was going to be falling soon and I had already used up what time I could give to the hunt that day. Reluctantly, I packed up all of my gear and carefully ascended my way back up the steep ridge.

After returning to my car and loading up everything, I drove away from the bridge without a doubt that if the ring was actually at this search sight the whole time, I would eventually find the "hidden treasure". I stayed hopeful that Ross's wedding band would reveal itself to me at some point, wherever it may have been hiding.

As I drove back down the mountain, I heard that all too familiar voice that starts whispering doubts in my head when search efforts stretch out to longer periods of time. It says to me, "What if the ring was never lost on that cliff? What if the ring slipped off Ross's finger as he was getting out of his vehicle to go help the distressed man? What if someone had already found his wedding band and did not turn it in? Or maybe the ring was lost at the current search site, but what if it rested on some ledge far below the area where I am searching? And maybe it's not accessible and you're wasting all of your time and energy". So many questions bombard my mind each time this type of difficulty emerges in a search and recovery operation such as this. But, each time, I have to remain steadfast and determine to complete the search that I started and to come to a point where I know without a doubt that there was no other possible locations that I could search. I have to know that I did everything I could that was in the realm of being safe and what was humanly possible. I was far from throwing in the towel at that stage.

The next day I spent some time on the phone with Hannah, reviewing my second search attempt details with her. Now that I had been at the crash site for an extensive period of time, it was important that I got answers to all of my new questions. This is the point in the story when Hannah had to decide whether she wanted to bring Ross into the search circle again. Originally she wanted this to be a surprise if the ring was found without asking him for further details. However, I needed to narrow the focus in exactly where Ross had moved about, rather than just the approximations of what Hannah remembered Ross sharing and illustrating when he was down on that cliff. It didn't take long before the Marine's wife decided to bring Ross into the discussion.

The Marine was quite touched that his thoughtful wife had taken such initiative to oversee this recovery operation to search for Ross's cherished possession. I conveyed all that I needed to know through Hannah and she in turn asked Ross all of the necessary questions. It was a bit complicated because he could only talk at certain times and he was limited to certain types of communication. It depended upon many factors which I cannot recall now what they were at the time. As Hannah fed Ross various inquiries, in addition to sending him photos that I took to diagram or comment on, she would then send me his updated information for me to study and review. It was quite amazing that we were talking between Maryland, Virginia and Kuwait. All of this communication was imperative in giving me the best chance to not only hit and re-hit the places that I had not searched or that I needed to re-focus on, but it would give me added confidence in the exact locations of where Ross remembered moving about on that dreadful day back in September.

So many photos were being diagrammed by Ross. Hannah would clarify tons of details and if I had questions on specific ones, I would have her get more information for me from Ross. Arrows and lines were drawn all over the photos, indicating where he slid down the cliff, where he ended up, and then where he moved over to from place to place on the side of the decline! Hannah even provided me a diagram of where one of the first responders grabbed Ross's hand to help assist him up the rock face when he was exiting the scene. I love the technology we have today!

After I acquired all of the intel that we could muster up, I was very confident that I had every bit of information that was possible to effectively search out all of the spots that remained. It brought clarity in knowing where Ross had moved about and what places remained as questionable as to where the wedding band may have ended up. The last logistic that needed to be put in place was scheduling time for me to go back to Big Pool to resume the search.

I texted Hannah later that same day and gave her the update on my schedule for the next week or so. Thanksgiving was coming up that week and the following week I was taking my son back to college. So, the next available search day where I could be outside for most of the day would be Friday, December 6th and Saturday the 7th. It turned out that Saturday the 7th would end up being the day that I chose to return to the site. After I texted Hannah about my available search date, she texted back:

"I'm sure if it's still there after three months, it'll be there still in a couple of weeks!"

I responded:

"Oh, most definitely! It will remain safe! I'm chewing at the bit to get back to the search site. If the site was closer to where I live, I could start at 7 AM and search for a couple hours at a time and then keep coming back every couple of days. But unfortunately, it's too far away to make casual trips. There's too much preparation. But don't worry, I am committed to returning the ring within the boundaries of what is humanly possible! It will get priority! It's just we are dealing with timing issues as the holidays are approaching."

The day before the scheduled search day, Hannah texted me and said:

"I listened to your voicemail from yesterday and everything sounds good for the search tomorrow. Ross circled another spot in a picture which I will text to you now."

I responded back:

"Fantastic! Great information! Thanks! Let's talk after 5 PM and later tonight to debrief!"

Later that evening we went over all the last details that we needed to go over including the most recent photo that Ross had sent over with his markings on it that he hoped would help me on Search Day 3 which would be the following day. Then, we agreed that we would touch base in the evening after I finished at the site. If I had any questions for Hannah, she said that she would try to make herself available even though she had a holiday party to attend to. Hannah would keep her phone with her just in case.

Search Day 3

December 7, 2019. You never know how these searches work themselves out. I get the question asked all the time: "What is your percentage of success when doing these search and recovery operations?" The answer depends upon so many factors, so you never can give one answer to each person who asks. In regards to this particular account, though it seemed most likely that the ring fell off of Ross's finger when he was put into rescue mode out there on the cliff, there was no way of knowing for certain that that was what actually occurred. Nothing had been found by any of the emergency crews, nor by Ross or myself in all of the attempts thus far. Yet, even without knowing where the ring ended up, I was determined to give it my all and believe that it was still accessible at the crash site. I did not want to believe that it never ended up there in the first place, or that someone else had already picked it up and did not turn it in.

I gathered all my gear together and went through my checklist the morning of the search, to make sure that I had everything ready to go so that I could spend most of my time at the site and not having to go through pieces of gear here and there, hoping that I had everything when I got to the location of the search.

I headed off up the mountain sometime mid morning, hoping that this would be the day when I was able to pull the ring from that treacherous area.

As I drove towards Big Pool, I will never forget the sight that I saw on the right shoulder of the road just a few miles from my destination. I saw a car that was flipped over on its side, facing in the wrong direction! The driver of the vehicle was just standing there beside his car, staring at this crazy site as if he was still trying to figure out how it ended up in that bizarre position! I don't know how in the world that Mercedes ended up like it did! It was so strange of a site that I had to take a picture of it as the cars slowed down to view this odd occurrence. I thought to myself, 'This is one dangerous stretch of highway!'

Soon, I arrived back at the bridge sometime around 11:30 a.m., I believe. Again, I immediately grabbed all of my backpacks and gear out of the vehicle, set up the emergency cones, and headed for the cliff once more. This time around I would be focusing on the other side of this large mound of rock where the actual car ended up between that big boulder and a tree. That's where it was suspended. I would take some metal detecting time to repel down off of the side of that part of the cliff and see if the ring landed down the hill on that side. I planned to search everywhere even though the cliff was extremely steep. There was never a moment that I felt safe even with the climbing ropes, the Grigor and the other climbing mechanisms.

Inch by inch and foot by foot, I examined all of the different areas that I discussed with Hannah which she had previously reviewed with Ross. I looked over the diagrams while I was suspended on the side of the cliff to make sure that I had all of my search spots organized in my mind in order to check them all out. I made sure that I used a sniper coil which is a small six-inch disc on one of my detectors so I could try to see if I could get any separation in the signals between the large metal slabs that were below the rock, dirt and small objects (like a ring) in order to be able to see if there were any differences in the target signal that were showing up on the detector screen. Almost immediately I saw a difference in my way of being able to search with my metal detector. I noticed differences in the metals that I was picking up on the machine when I would pinpoint and dig up particular targets. They would be found next-to or on top of large pieces of metal in those areas. This was extremely successful in me being able to differentiate different types of metal. It wasn't 100% perfect in helping me spot various types of objects, but it was a whole lot better than using the larger coil that I had implemented a couple of weeks back.

The weather that I was working with on this day was good enough to conduct a full search that afternoon. It was cold outside and as the hours progressed, it would get much more frigid out there. However, the gear that I was wearing was doing a fine job in keeping me warm.

As the search continued, I threw my climbing ropes farther down below and repelled to the next level off the side of the cliff. I brought another hundred foot rope to extend my search much farther than I had in my other search attempts which gave me some more flexibility in metal detecting areas that I was not able to reach in my previous attempts.

I kept moving to all of the spots that I studied with Hannah on the phone, which were passed along from Ross and it made all the difference in the world with this added intel. When I couldn't find the ring after dropping a good 10 to 15 feet more, I decided to go up the cliff a bit and over to the right to where Ross had been dialoguing with the man in distress. He got up and stood near the rock which was holding the vehicle that was propped up to one side. I went all around those areas and searched more carefully than my last visit, but still there was no ring found. At that point, I decided I would go off the other side of the cliff and repel down about 25 feet or so to see if perhaps the ring ended up on the other side of the rock. Using two ropes, one as an emergency line and the other one as my main descent line, I carefully made my way down the steep decline and used my right hand to metal detect while I locked in the rope with my left as well as kept tension on it to make sure that I was safe. If I told you that I was not conducting a dangerous type of procedure, I would not be honest with the reader. I was looking down into the ravine, viewing the water and the rocks below and if anything failed on my equipment, there would be no way that I could survive the fall. Wearing my safety helmet and using all of the gear that I had with me was the best that I could do under the circumstances, but there are no guarantees for something to go wrong and I was doing everything I could to minimize any room for error.

I probably spent around 40 minutes on that side of the cliff, which was way more steep than on the original side where Ross had slipped down the ridge. I made sure that my metal detector searched every possible place on that side, making certain that I didn't miss a spot. Most of what I picked up on my machine was many metal parts from the destroyed vehicle. However, it did not mean that the ring couldn't have flown farther down. After a hard search, I resolved to work my way back up the ridge and try again on the other side, but move farther down even more.
As I started making my way back around the side of the cliff, I ended up losing ground below my boots and I was literally hanging in midair because all of the rocks and ground just came out from underneath me! Had I not had those ropes and the emergency line connected to my harness, I definitely would have fallen all the way down into the ravine. It was certainly a close call. I felt extremely vulnerable being completely suspended in the air like being on a swing. I was able to move my gear up, notch to notch, inch by inch, until I was able to make more traction and move my way farther up the cliff until I was able to get to level ground. Then, when I reached the top, I headed back down to the other side of the ridge where Ross originally lost his footing.
It was about that point where I took a break and decided to have something to drink before repelling farther down the original search location. With my ropes securing me tightly as I sat on a ledge, I thought that perhaps Ross's ring may have bounced farther down the cliff. It was possible that when the other first responders were moving about at the crash site, their boots could have kicked a lot of dirt, leaves and maybe even the ring farther down to the next level. I only had a good 20 feet more to search before I would end up having to repel off the side of that cliff to another shelf that was way down below.
After the short break, with my safety rope attached and my emergency line in place, I moved my way down the crag until I reached an area where I could balance myself with the lines that I made quite taught. Unfortunately, I was getting more interference coming from more rebar below the surface. I used the 6 inch coil on my detector to do what I did earlier, which was to try to see if there were any breaks in the target signals to indicate that there may be more than one piece of metal in the spot that I was detecting. Nothing turned up except miscellaneous pieces of metal from the destroyed vehicle that ended up between the rock and the tree.
As I approached the fifth hour of searching, I was already 30 minutes into detecting my new position. I moved farther down the rock to almost the very edge where I could not go any farther without dropping off another 25 feet or so. I continued to move the machine over more leaves, pieces of bark and plenty more pieces of sharded glass from the automobile. Finally, I got a new signal that was coming in pretty sharp in the range of a man's wedding band. There were other pieces of metal surrounding that target space so I wasn't sure if it was a combination of more than one piece that I was detecting at one time or not. I did a little bit more experimenting around that target area and it was clear that there was a small object buried in the leaves and dirt at that lower spot on the edge of the cliff. The target signal was detected about a foot away from the drop off. It was so close to the edge that if I had brushed my boot over that area of leaves and dirt, it would have absolutely scattered that mound of debris down to the next level of rock which was another 25 feet below. So, I carefully reached for my pinpointer and reviewed the area where the signal was coming from. I then moved my hands into the leaves and dirt to reveal the object that was hidden below the surface.
Just as I sifted through the second clump of dirt and leaves, to my astonishment, I saw something shiny and yellow in color! It was something that clearly did not belong out there, all alone, buried in debris on the side of the cliff! Peeking out of all that nature was the wedding band that I had been relentlessly looking for for so very long! I found it at last! It was a surreal moment! The amount of jubilation that I was experiencing at that moment was off the scale! Because I had been in "search mode" for so long each time I visited the site, discovering the ring was almost unreal to me! As if I was living in a dream!
Knowing that Ross had tried several times to recover the ring and having made several attempts myself to find the band while being extremely vulnerable with hanging off the side of a cliff connected to climbing gear, the "challenge of the chase" made this moment of triumph even more sweeter and impossible to believe!
I immediately took a hold of the ring and let out an incredible sigh of relief! I couldn't believe that my search was over! When you expend so much of your energy and time working on the information handed to you and going to the search site over and over again, having to be so careful not to put your life in jeopardy while searching for something such as this, you start to lose the anticipation of finding the ring. Even though you've had enough experience with overcoming rejection after rejection from false signals or bad targets that you uncover from the ground, you still fall into a mindset of "I wonder if these efforts will ever pan out"! And it finally did!
I wanted to shout with joy and relief, so I did let out some words of excitement out there all alone on that cliff! I would have to review the video of my search to get the exact dialogue that I expressed, but all I know is that I was emotionally filled with excitement which I couldn't hold back! I reviewed in my head all of the time that Ross and Hannah had come to the search site and came away with nothing. I thought about my other two attempts that led to no avail. Then, I thought of all the hours that I had been out there searching that afternoon leading up to this incredible discovery! It was such a memorable moment and now I had something to share with Hannah that would absolutely lift her spirits and eventually her husband's!
As I sat there on the steep rock, I recalled the initial email that I received from Hannah, wishing that I could bring a glimmer of hope to the couple in attempting to recover the lost wedding band. Now that the ring was found, the precious story attached to it would continue on in its family history! First starting 36 years earlier when Ross's father and mother "tied the knot", and then again with the exchange of rings between Hannah and Ross on their own wedding day just a couple of years ago! How fantastic was this moment! This very special family heirloom would not remain lost forever at this horrific crash site! It wouldn't stay buried under nature with no hope of ever being recovered! No! On the contrary, it would live on and the memories made around it would be celebrated for decades to come and beyond!
I remember as I was fastened to those ropes on the side of the cliff, staring at that handsome wedding band with my hands trembling with excitement! Once I documented the incredible moment of joy, I immediately inserted the special piece of gold onto my car key carabiner clip for safe keeping. Just before starting to pack up my gear and head back up to the top, I took pictures of where the ring was eventually found and I measured the distance from the recovery spot to the edge of that section of cliff.
After gathering all my things up, which included putting my tools back into the backpacks and returning my metal detector to its carrying bag, I made my first trip back up the cliff to bring the first load of gear to the side of the highway where the newly constructed guardrail was put into place. I then returned down again to gather my last bit of gear before climbing back up, releasing one rope from the tree and then the other from the guard rail that were both attached to my harness.
My mission was complete! I was freed from the danger below. As I stood at the top of the cliff and looked down at where I had been suspended by those ropes, words could not describe what I saw and felt. So many pieces of that destroyed car were scattered everywhere. I thought about the terrible accident once more, with what that poor man must have gone through when he flew through the guardrail and down the side of the rock where he almost lost his life. I thought about Ross and how he heroically responded to the situation, doing what no one else volunteered to do when he headed down the side of that cliff, his body faltering until he grabbed a hold of what he could find to bring himself back up to assist the distressed individual. I would leave the scene now where so much tragedy and drama once took place. The wedding band was the last survivor to be rescued from the side of the escarpment, three months after the initial emergency had taken place.
Ross's ring would finally be reunited with him upon his return home from Kuwait in the month of May 2020! In the meantime, I would have the great pleasure of sharing the incredible news with his wife! Once I got everything back in my vehicle, I went out into the woods and set up a video camera to capture the moment when I would reveal to Hannah what I finally found on the side of the cliff! It was a ring reveal I will never forget! She was beyond surprised and overjoyed with my discovery!
Hannah did not wait to share the surprise news with Ross over the phone that his special ring had remarkably been recovered!  She even audio recorded his reaction when he heard what would be waiting for him on his dresser upon his arrival back home from Kuwait! He was so taken back and emotionally blown away by the reality that he was in fact going to be able to wear this precious family heirloom once again! It wasn't lost forever! Ross was just as surprised as Hannah had been at the moment when I first revealed the results of my search with her on that cold, late fall evening!
Following that night, a week or so later, I would drive the handsome keepsake down to the Quantico base area where I happily presented Ross's wedding band back into the hands of his beloved wife Hannah. She was beyond thrilled to finally hold that sentimental ring in her hand once again and celebrate the return of something so special as her husband's wedding band that was presumably lost forever. Had she not initially contacted me those many weeks earlier with the determination to not give up searching for the ring, that memorable reunion with the wedding band would have never taken place.
In the end, Hannah could not wait to share three beautiful parts of their marriage with Ross upon his arrival back home the following year:
First, it was the long awaited embrace of his lovely wife who patiently counted the days until her man's return.
Secondly, it was the much anticipated delivery of the couple's beautiful baby boy which Ross had arrived back in the States just in the nick of time to be a part of that unforgettable moment!
Thirdly, it was the precious14 karat gold wedding band that had gone missing for so many months which Ross couldn't wait to slip back on his ring finger once again!
Apparently, without question, this special Marine had quite a bit of treasure to come home to!
If you would like to view the video of this incredible ring reveal, please subscribe to my YouTube channel and you will be notified when the search video is uploaded onto YouTube.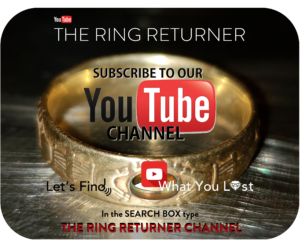 SUBSCRIBE TO BRIAN'S YOUTUBE CHANNEL TO VIEW THIS SEARCH VIDEO!
If you would like to watch the SEARCH VIDEO and the RING REVEAL pertaining to this story, the video will be uploaded soon. To receive a NOTIFICATION letting you know when the video is uploaded to YOUTUBE: go to YOUTUBE by CLICKING THE LINK BELOW or OPEN your YOUTUBE APP on your device. In the SEARCH BAR, type: THE RING RETURNER, click SUBSCRIBE and lastly, CLICK ON THE "BELL" to receive NOTIFICATIONS when this latest search video is available to view! 
BRIAN'S YOUTUBE CHANNEL LINK: 
https://www.youtube.com/channel/UCmcn09QqWhHrj-7SGqlUBJQ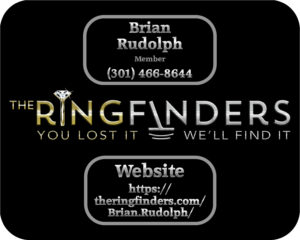 CALL BRIAN RUDOLPH WITH THE RING FINDERS AT (301) 466-8644!
VISIT THE RING FINDER'S WEBSITE TO READ MORE OF BRIAN'S SUCCESSFUL SEARCH STORIES at:
https://theringfinders.com/Brian.Rudolph/
HE WILL RETURN TO YOU WHAT HAS BEEN LOST!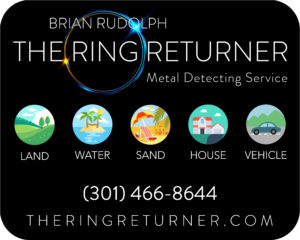 VISIT BRIAN'S LOCAL WEBSITE FOR ADDITIONAL STORIES AND INFORMATION AT: www.theringreturner.com