BRIAN RUDOLPH, LOST ITEM RECOVERY SPECIALIST (LAND, WATER, SAND, SNOW, LEAVES, HOUSES & VEHICLES) WILL FIND YOUR LOST KEEPSAKE! CALL ASAP (301) 466-8644!
Colby, his wife Beth and family were all having lots of fun in Ocean City, Maryland, vacationing at the shore all week. Everything was going great until Colby got back to his parent's beach house from being at the shore all day and realized his wedding band was missing.
Colby's ring was incredibly special to him for a number of reasons. Even though this was not his original wedding band, it held great meaning because it had previously belonged to Colby's grandfather who got married back in the 1950's. When he passed away, Debbie (Colby's mother) inherited it and gifted it to Colby when the poor guy lost his original wedding ring in the Atlantic (also in Ocean City) shortly after getting married. You could say he was in the "dog house" with both his wife and with his mother over this current disappearance of the band.
The family looked everywhere for the ring. When they retraced Colby's steps from the time he entered the beach until pack up time, Colby realized what had happened.  He took the ring off for safe keeping (so that he didn't lose another ring out in the water) and placed it in his beach chair's rear pocket along with a few other items. Just before folding it up to leave the sand at the end of the day, he took the contents out from behind the chair but forgot that the ring was still in the pocket. Colby shook the chair to remove any excess sand and the ring must have dropped out of the piece of sand furniture.
Upon realizing what had happened to the ring, Colby rushed back to the beach, hoping his family heirloom ring was still somewhere in the sand. Without a metal detector it was impossible to find the 14 karat yellow gold band and so he and Colby's family left the beach once more, but this time tensions were mounting. Mom was pretty upset over her dad's ring being lost out there on the same beach just like the first ring.
It was at this point that Colby and family sought out some help on the internet. Their idea was to rent a metal detector in Ocean City, Maryland. But as they were looking up metal detector rentals, THE RING FINDERS international directory of metal detectorists popped up and a whole new search strategy took root. Colby and mother Debbie found me on the directory and immediately gave me a call.
I explained to the two of them that I provide metal detecting services for the Ocean City, Maryland area and I love helping people recover their lost rings and other valued items on the sand and in the water. Colby and Debbie thought it over and decided to use my services if they couldn't find the band with a detector rental. I assured them that I was happy to assist in the search if Plan A failed.
As it turned out, renting a detector failed miserably! Colby couldn't find his precious ring and the detector was making all kinds of dysfunctional bleeps that the frustrated fellow could not interpret. I received a second call from the family requesting my immediate help. Unfortunately, several hours had passed and nightfall was about to set in. Detectorists would be roaming the sand like pirates and the sandcomber machines would be picking up trash and lost property all the way down the beach. It was quite possible that the ring was already gone. Still, Colby begged for help and I responded immediately to his beacon call!
After traveling two and a half hours through the night to the east coast, I made it to the beach where Colby, Beth, their kids and mama Debbie were all hanging out waiting for me to arrive. I got my gear out and we immediately headed towards the surf. Colby showed me his ridiculous rental and then the location of where he was approximately sitting, as well as all of the territory he had detected with no happy results. That's the point when I took over from there.
Once I got my detector set up for the type of environment that I was working with, I started the search nearest to the towel line (the place where most people lay their stuff closest to the slope). Colby noticed this and kindly reminded me that he didn't think he was anywhere near that area and questioned why I would go that far from his presumed sitting spot which he pointed out to me. I explained to Colby that it was quite possible that when he shook out the sand from the chair, the ring could have gone flying much farther than what he predicted. I told him that us RING FINDERS search outside the box, outside the norm and that's why we are so successful.
During that brief dialogue with Colby, I was making my way from north to south (parallel with the Atlantic shore), swinging the coil and listening for potential targets. Within 30 seconds of starting out, at the moment when Colby responded to my reasons for doing what I was doing, I hit a fabulous target signal on my Minelab Equinox 800 detector! I believe it was coming in as a 13 and 14 number on the screen. With my headlamp blazing towards the warm sand, I knelt down, pulled my Garrett Propointer out and narrowed in on my target. Then, I placed my hand down below the sand a few inches, and there it was – a very handsome men's yellow gold wedding band – the classic style that never stops being worn by grooms! I was feeling such elation within! I had driven 2.5 hours to the beach and then the search that had begun less than a minute earlier was already over! I was correct in my judgement call. Colby, who had been with his family earlier that day about 35 feet inland from where I was searching, must have jerked the chair so quickly that the action caused the heirloom to fly far from the area that one would have expected the ring to have landed. My client was extremely fortunate that the night metal detectorists had not yet made their way to that part of the beach!
I made my way back over to Colby and then proceeded to shock the living daylights out of him! I excitedly shared the amazing news that his second wedding band that he had so unfortunately lost, this time it would be coming back to his ring finger once again! The Ring Hero struck gold once again and I could not have been more happier for my very kind new friend who was beyond blown away by what I was able to return back to him so quickly!
If you would like to view the SEARCH VIDEO and the fantastic RING REVEAL pertaining to this search, please subscribe to my YouTube channel and you will be notified when the search video is uploaded onto YouTube.
SUBSCRIBE TO BRIAN'S YOUTUBE CHANNEL TO VIEW THIS SEARCH VIDEO!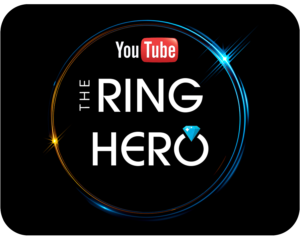 To receive a NOTIFICATION letting you know when the video is uploaded to YOUTUBE: go to YOUTUBE by CLICKING THE LINK BELOW or OPEN your YOUTUBE APP on your device, go to the SEARCH BAR, type: THE RING HERO, click SUBSCRIBE and lastly, CLICK ON THE "BELL" to receive NOTIFICATIONS when this latest search video is available to view! 
BRIAN'S YOUTUBE CHANNEL LINK: 
https://www.youtube.com/channel/UCmcn09QqWhHrj-7SGqlUBJQ
CALL BRIAN RUDOLPH WITH THE RING FINDERS AT (301) 466-8644!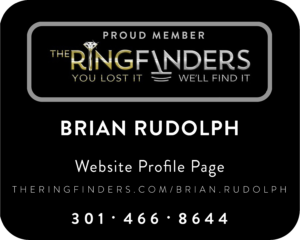 VISIT THE RING FINDER'S WEBSITE TO READ MORE OF BRIAN'S SUCCESSFUL SEARCH STORIES at:
TheRingFinders.com/Brian.Rudolph/
HE WILL RETURN TO YOU WHAT HAS BEEN LOST!
VISIT BRIAN'S PERSONAL WEBSITE FOR ADDITIONAL STORIES AND INFORMATION AT: www.TheRingHero.net