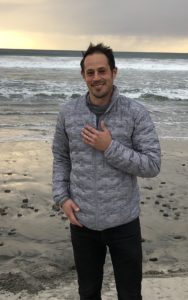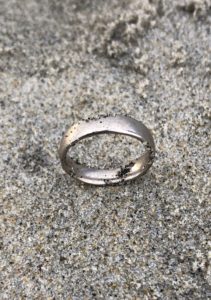 TheRingFinders metal detector service helped find a lost Gold wedding band in the surf at San Diego North county beach in Cardiff ; Open now; Call 760 889 2751
I was contacted by James recently who had accidentally lost his wedding ring of 15 yrs at Cardiff beach in San Diego and was asking if could help?  He must of called the right guy because finding gold is right up my alley.
So I met up later that day with James who was able to show me a good area where he had lost the precious Gold wedding ring 3 days prior. He even had a loaned Bounty hunter metal detector in hand ,Perhaps..Just Incase.
After merely 10 minutes of grid searching back and fourth over a tennis court sized wet-sand area I was beginning to doubt that it would be shallow enough to retrieve after so many days of big surf, Beach cuts, erosion that left scars on the shorelines along the California coastline recently….Then I got a familiar signal on my machine and called him over to see if the bounty hunter detector would pick up the signal I had on my equipment.  As I assumed it did not pick it up… Soon after I was finished explaining why a VLF bounty hunter metal detector won't work in any wet mineralized sand down here,, I popped out James's precious gold wedding ring and gave it back to him.
This reaction was priceless,Unforgettable and I will never stop enjoying what I do. Helping others in need with my experience. TRF#1
Prospecting for gold has taught me the essential fundamental values of Metal detecting that has kept me in Piece & serenity since I started.
Every wedding ring has a story that can live on forever. Don't hesitate,,Don't wait,Time May work against you. The sooner you contact me,,The better the chances we have.