---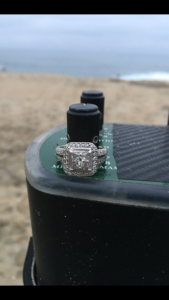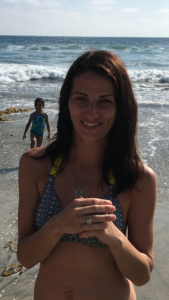 Theringfinders Metal Detecting Service in Oceanside Ca has helped Find and return a Diamond Ring.
July 17th I recieved a call 11:30 at night from a Gentleman named Anthony.He tells me his wife had lost her Diamond wedding Ring in the surf. I immediately got ready and was there in less than 20 min. I met him at the location and asked many questions for clues that may lead this Water search to a Fast and Precised Recovery for this Precious ring. Anthony explained to me he was not there on the beach when she lost it but thought for sure way out in the Surf.I then spent over 2hrs swinging,Dragging my scoop griding while overlapping my detector coil with no luck.
The next morning at 1:00am I arrived to search again for 2hrs and was able to rule out where this ring is Not.Confident in my equipment I know that This type of Gold ring I can pick up 2′ down in wet sand.I had already cross grided this large area and Dug all targets that were faint/break in the threshold. After these Minus tides searching twice while fighting the Ocean/Waves and Not to mention our Self defense awareness of it being 2:00am Alone knee to waist deep,pitch black with the homeless and rift raft type of people sleeping nearby Believe me,it ain't easy ⚒
So I asked a Good friend also a local from Theringfinders to help hunt during the day time low tide on the upper bank/slope where I had not scanned over, just incase she wasn't out that far or near the deep trough hole at the bottom of the beaches natural incline. John hughes was able meet the wife there during daylight with better details and exact location of when she felt the ring fall off.John also gave this needle in a hay stack a swing for 2 days in the blistering heat with no luck.After our vigorous 3 day search during king tides with Constructive waves and Non Constructive waves I had concluded this was a matter of timing.. So I decided to give this another shot in the dark then arrived at 4am the final day.
After just 20min into scanning I dug up This lost Diamond ring in the wetline just up the slope.The Ocean Is always Hungry and can eat your valuables.After such hard work it was a relief recoverying this Wedding ring and another Prime example that we Never give up!
Please Call Or text me at 760 889 2751 for a Fast and effective Metal detecting Service guy.
California;O'Side,Carlsbad,Leucadia,La costa,encinitas,Solana beach,Del mar,Camp pendleton,Vista,san marcos, Escondido, Pala,Julian,Ramona,California state beaches.