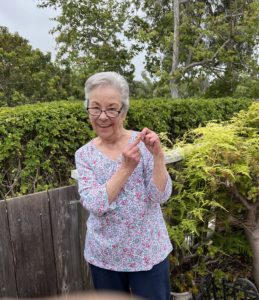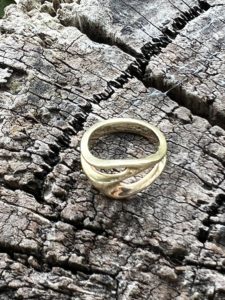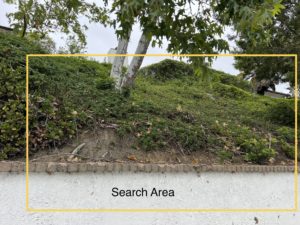 Metal Detecting Service Laguna Niguel, CA. ..  .. Call Stan the Metal Detector Man ..  949-500-2136
**** Lisa Called me asking for help to find a ring her mother,  Vicki had lost while feeding birds in her backyard. The ring was actually very special as it was her husband's wedding ring and he had recently past away.
I was able to get to the home in Laguna Niguel, CA. just an hour before dark. I knew this search may take a few hours, it was important to see the area to be searched so I can wear the proper clothing and bring the best tools for the search.
The ring had come off Vicki's finger as she tossed bird seed over a plant and the ring had went down a 45 degree slope that had ivy and leaves. Perfect place to hide the ring, but not so nice to search for a ring.
I did a short search that first evening and returned the next morning with long pants, long sleeve shirt, gloves and proper shoes for the area to be searched. I began at the bottom of the slope on  my hands and knees. ( almost impossible to stand on the steep slope.)
Using a detector that had a short shaft and following up with a Garrett Pinpointer. I worked 5 ft square areas,  one at a time before moving over to the next 5ft.square. Two hours after starting I got a great signal and in the leaves there was the sight of gold as I moved a few leaves. RING SAVED!!
I was surprised how far the ring ended up, far to the left of where she had thrown the bird seed. This seems to be common , often rings lost while throwing objects seem the come off at the end of the motion. ?? Also rings lost over hillsides travel much further than you think. This ring traveled more than 40 feet from where she was standing and 20 more feet to the left of what I had planned to grid search.
It is hard to describe the look on Vicki's face when I went to her door and held up the ring. Also her daughter Lisa couldn't be there, but texted me a beautiful message saying how much this meant to the whole family..
I WILL TRY ANYWHERE .. Timing is important call ASAP .. Stan the Metal Detector Man .. 949-500-2136  ..I Will Answer the Call.