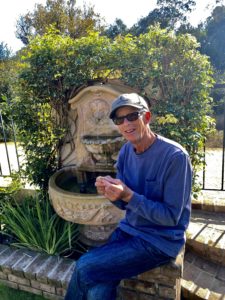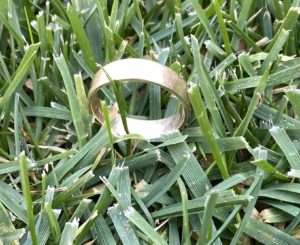 Mobile Metal Detecting Service .. Call Stan the Metal Detector Man .. 949-500-2136
…  John lives in Lake Forest, CA., he had been gardening in his backyard the day he discovered his gold wedding ring was missing from his finger. He had worn that ring for almost fifty years. Although he didn't discover it missing till later that evening while eating dinner. He felt that the ring had to be somewhere in the backyard because he not been anywhere else that day. 
Four weeks passed and his efforts to search the planters and small area of grass for his special ring were not successful. This week he and hid wife, Wanda were celebrating their 50th wedding anniversary. His son suggested that he try calling a member of TheRingFinders. That was how John found my contact information. 
I met John and Wanda that same afternoon. He showed me his backyard with several planters filled with beautiful flowers and other ornamental plants. The lawn area was small, maybe less than 40'x40', but the ring could have been stepped on and hiding under the surface. John told me that he believed it could have been in one of the flower beds, where he had applied 6" of mulch. 
It took a while to scan the lawn and some of the flower beds with my metal detector. The ring did not show up. The last resort is to pull out the Garett AT handheld pinpointer (metal detector). By this time I was running out of areas to search. Using the pinpointer, requires crawling around on my hands and knees, poking the small probe into places the larger metal detector couldn't penetrate. All the time taking care not to damage any of plants. 
I got half way around the planters to a small elevated water fountain, when I got a good signal from the detector. I had to bend down to see under the fountain and there was John's gold ring. 
It was a good day and as I watched John looking and holding his ring I could feel the emotion of the moment. This is my reward for doing this, I have the experience, the equipment, the time and the Patience to help people find their sentimental keepsakes. Another day in Paradise 
"I WILL TRY ANYWHERE"… Finding your valuables is important to me .. Call now !  Stan the Metal Detector Man …  949-500-2136