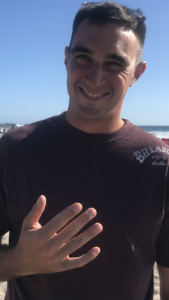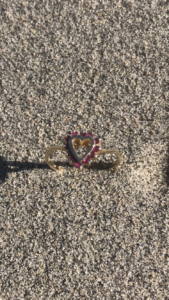 THE RING FINDERS METAL DETECTOR SERVICE HELPED FIND A LOST GOLD HEIRLOOM RING AT CAMP PENDLETON DEL MAR BEACH.((OPEN NOW)) CALL 760 889 2751
This summer,I received a text message regarding a lost gold wedding ring at the beach under the sand.Fortunately I happen to live nearby and just after a few questions I was at the front gate to meet the owner in order to gain access on Camp Pendleton base to conduct a search at Camp Del Mar beach.
The husband of the lost ring was armed with 2 friends that was there during the time it was lost which contributed to help locate the approximate area they had gathered that day on a hot sunny San Diego beach.
I then began a grid search pattern at this location thinking this could take an hour + to rule out ALL possibilities…but after just digging a few pieces of buried metal trash beneath the sand I unearthed this lost precious ring…;)
TheRingFinders Metal Detector Service in San Diego is well equipped with the latest detectors on the market,however what is Keene,,is to know how to use them..!..
Not too mention substantial experience in erosions but combined with decades of knowledge Metal Detecting in our own backyards,"There ain't no grave that can hold my money down"..Johnny cash.
Regardless of the reward,,Call ASAP for a fast recovery  760 889 2751. H.H.Hunters!