BRIAN RUDOLPH, LOST ITEM RECOVERY SPECIALIST (LAND, WATER, SAND, SNOW, LEAVES, HOUSES & VEHICLES) WILL FIND YOUR LOST KEEPSAKE! CALL ASAP (301) 466-8644!
While I was in the middle of a search for a lost ring in Washington DC, I received a phone call from a couple who lived in Arlington, Virginia. They wondered if I had any time to come out to their property to search for a missing wedding band. Chris and Linda had only been married for a year and two months when Chris' 14 karat yellow gold wedding band with tantalum inlay disappeared somewhere on their property earlier that day.
The couple shared with me that Chris knew that the ring was on his finger while they were hosting a get-together in the backyard with some friends of theirs. Apparently, the band had slipped off of his finger once before that same afternoon, but he realized that he was about to lose the precious band and quickly returned it to his finger for safekeeping – at least that is what he thought was best to do. Not thinking that the ring was going to go "missing in action" hours later, while Chris was taking a plate over to one of his guests, he pulled his hand out of his jacket pocket and realized that his ring was no longer on his finger. He checked the jacket thoroughly but it was not to be found. During the rest of the afternoon into the evening hours, everyone scoured the grass on their hands and knees as well as used their smartphone's flashlights to investigate the property, hoping to find Chris's most sentimental keepsake. Unfortunately, Chris, Linda and the rest of the gang had no luck in recovering the ring.
Instead of renting a metal detector, Linda discovered the elite international directory of metal detectorists called THE RING FINDERS. She was googling how to rent a metal detector and the THE RING FINDER'S website page popped up on the screen. She figured that she would allow a professional to help the two of them find the ring rather than attempt to conduct the search themselves. It was at that stage when I received their call for help and I was more than excited to schedule a visit later that evening.
Sometime before 9 p.m., I arrived at the couple's Arlington, Virginia house where I was first greeted by Chris and Linda out by the sidewalk. Immediately, I bonded with the two of them just by how sweet and personable the two of them were. Once I got my gear together, they shared a recap of how the ring disappeared and where they believed it had slipped off of Chris's finger earlier that day. The three of us took a walk to the backyard and the couple showed me where they were hosting their friends for the majority of the time. Linda purposefully left all of the furniture exactly where it was when their friends were hanging out with them just so that they could give me an accurate account as to where everyone was eating and fellowshipping.
Once I got all of the facts together, I started up my metal detector, paired up the headphones and got busy with the search. The yard was medium in size, so it wouldn't take that many hours to detect the entire backyard if necessary. Though Chris indicated that he did go over to the fence at some point (which was maybe 30 feet from where they were hanging out with their friends), I thought it was best to first check the area of the grass where there was more foot traffic. If I didn't find the wedding band in that general location, I would then stretch my search farther away from that epicenter.
Within approximately two minutes of starting the search, I picked up a very promising target signal that sounded exactly what I was looking for. When I looked at the detector screen, it indicated the number range that was definitely a sequence that I was hoping to pick up in my detecting headphones. I knelt down to investigate the object in question and just as I placed my pinpointer (a handheld detector) over the section where the detector picked up the metal to isolate the exact location of the item, I immediately identified the metallic target as the 14 karat yellow gold ring with tantalum inlay wrapped around it! I did in fact find the lost wedding band! It certainly was a very handsome ring that was about to be reunited with its rightful owner! I could not have been happier for Chris and Linda as this ring meant so very much to the two of them! Minutes after my discovery, upon the reveal of the ring found, two new smiles were formed on the faces of both Chris and Linda! The couple was beyond excited and very much relieved of their stress and regrets! Before I said goodnight, the three of us celebrated my successful search and recovery of Chris's gold tantalum wedding band right there in the same spot where he sadly lost it just hours earlier that day!
SUBSCRIBE TO BRIAN'S YOUTUBE CHANNEL TO VIEW THIS SEARCH VIDEO!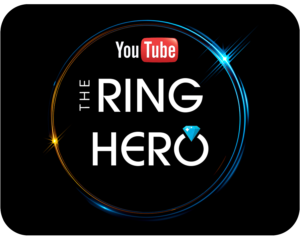 To receive a NOTIFICATION letting you know when the video is uploaded to YOUTUBE: go to YOUTUBE by CLICKING THE LINK BELOW or OPEN your YOUTUBE APP on your device, go to the SEARCH BAR, type: THE RING HERO, click SUBSCRIBE and lastly, CLICK ON THE "BELL" to receive NOTIFICATIONS when this latest search video is available to view! 
BRIAN'S YOUTUBE CHANNEL LINK: 
https://www.youtube.com/channel/UCmcn09QqWhHrj-7SGqlUBJQ
CALL BRIAN RUDOLPH WITH THE RING FINDERS AT (301) 466-8644!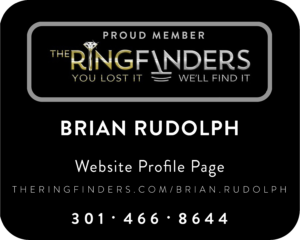 VISIT THE RING FINDER'S WEBSITE TO READ MORE OF BRIAN'S SUCCESSFUL SEARCH STORIES at:
TheRingFinders.com/Brian.Rudolph/
HE WILL RETURN TO YOU WHAT HAS BEEN LOST!
VISIT BRIAN'S PERSONAL WEBSITE FOR ADDITIONAL STORIES AND INFORMATION AT: www.TheRingHero.net