It was a few days after Chris from Bournemouth lost his wedding rings that I received his call. One afternoon after enjoying some time on a speed boat they decided to moor up for lunch. When one of the children jumped into the water he reached out & grabbed Chris's gold chain where his parents wedding rings had hung for many years. The chain snapped instantly & with nothing to do but watch, the rings sunk down into the sandy waters.
Great care was taken to remember the location as best they could & when I received the call they had a pretty good idea where the rings would lie. About 3 days after the loss I tried in vain because the wind, waves & weed prevented any useful attempt so we decided to abandon the search & try at the next low tide.
On Saturday 16th July low tide came & I began my gridding out. Within half an hour Id found the first, minutes later the second. Chris was delighted to receive the rings back & has made a promise to smelt the two rings into one. Chris has made a kind donation to the Margret Green Animal Charity for which I am most grateful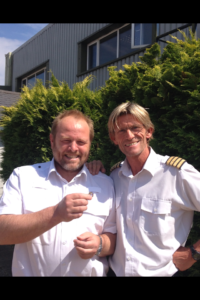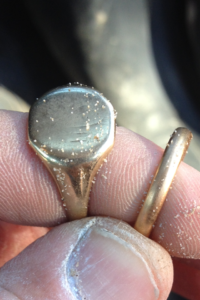 .