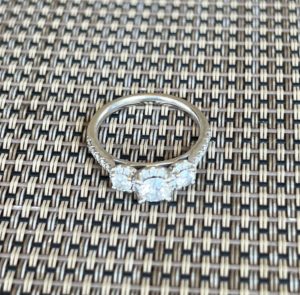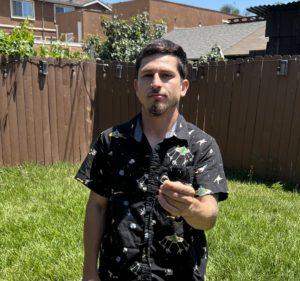 Mobile Metal Detecting Service used to find gold diamond wedding ring  after a week in the grass. Professional metal  detectorist finds the beautiful ring. Metal Detector Man can help you find your missing keepsake.. 949-500-2136
*** Joseph's wife lost her white gold diamond wedding ring in the back yard. The grass was probably 6" deep. She did feel it slip off her finger in a 8'x8' spot. Joseph raked and pulled grass out for two days without finding the ring. I believe as you rake grass the heavy gold just drops deeper. 
The most difficult part of the search was meeting Joseph at his home. He had difficulty getting away from work. I had to wait for an hour in the neighborhood where I wasn't quite familiar with. There was a lot of graffiti and all the homes had security bars on the windows. I would not have come to that location after dark. 
All was well when Joseph showed up and I found out the loss occurred in the backyard. Sometimes a search in the front yard or curb strip draws unwanted attention from neighbors and people passing by. We went to the backyard where I could see all the grass that had been disturbed when he attempted his search.
I set up my high frequency detector which eliminates a lot of the EMI interference. The first target was a costume jewelry gold colored chain. A couple feet outside the site he laid out I got the signal I was looking for. Like I thought, the beautiful diamond ring was deep in the grass and the diamonds were facing down. That seems common when I'm able to see the ring in its original resting place. 
Joseph was very excited, grateful that he had found me on TheRingFinders website. He got on the phone right away to call his wife with the good news.
If You need help call me as soon as possible.. I WILL TRY ANYWHERE… STAN …   949-500-2136