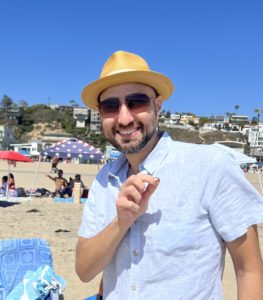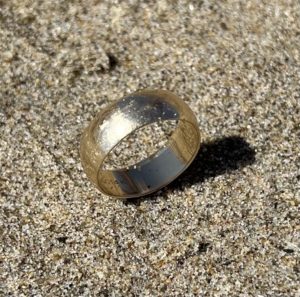 If you lose a ring at the beach don't waste time. Call Stan the Metal Detector Man immediately.. 949-500-2236  .. I WILL ANSWER THE PHONE
.
*** I had just finished recovering a diamond engagement ring for a couple at a South Bay , Los Angeles, CA. beach when I got a call from Ron who had lost his gold ring. He was at Marina del Rey Beach, CA. Which was just 5 miles away from where I had finished my last search. 
I asked him if he was able to stay at the site for a while which he said, yes.  I was at the beach shortly after our call, but it took close to an hour to get a parking place. Just part of the job, especially in the summer time. 
We kept in touch on our cellphones and I assured him that once I got to his location, it probably won't take much time to find his ring.  He was at the boardwalk to meet me. As we were walking I explained to him how the metal detector works. Most people are curious.
Just as started my search pattern I got a great signal, but it turned out to be a nickel which has a similar signal as a man's gold ring.. No problem, the next signal was just as strong and Bingo !!  It was Ron's gold wedding band in my sand scoop.. There you go again, The Right Tool with an Experienced Operator make a Successful Search.
If you lost something of value, I may be able to help you… Call ASAP Anytime.. Stan the Metal Detector Man .. 949-500-2136   .. I WILL TRY ANYWHERE