July 13th  10:00 p.m
I was out Searching For a long lost class ring in Oceanside when My phone blows up From John Hughes and a couple who Lost a Men's Platinum Ring in the sand.I emediatley Responded.First thing In the morning I met Ted the owner who knew the rough area he had lost it and he said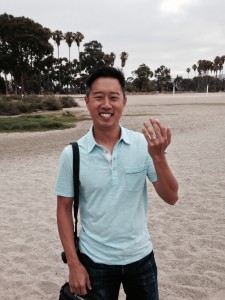 This is his 2nd time losing it,the first time he lost it in Newport Beach out in the ocean and a metal detector By the name of Stan Ross from TheRingfinders.com found it nearly a week later! I told him he was a lucky guy to to meet a Legend like Stan.
This looked like a very easy search,In the dry sand, 35'x15′ foot area away from the water and crowds but One major concern I had to explain before I began my search…This beach I know well and often see many local Hobbie detectorist at night/midnight/am and because This ring was lost 3 days ago who knows if it is still in the sand?
So I began searching Using my Garrett V.L.F detector for nearly 15 minutes I have not even heard one piece of metal,trash,coin WOW this beach Has been cleaned.So I move further towards the trail and get my first signal a
(Solid scratchy Foil sound) wich I like to hear and I always dig trashy pull tab -aluminum sounds.. Why? …I take 1 scoop and There's teds Platinum ring :).
Meanwhile Ted was enjoying the scenic view taking pictures of the Ocean and the nice sunny morning when I walked up with his ring…  We both smile and laughed I Told him He got lucky again !
I Must say, Thanks to The "Mistro" Stan Ross and John Hughes "King Neptune" for the opportunity to Help others.
Need Help?? Call me A.S.A.P!
760 889 2751  Curtis Cox Theringfinders.com