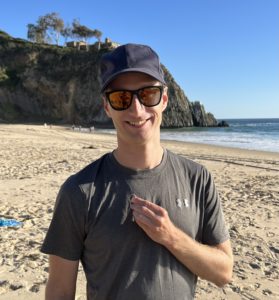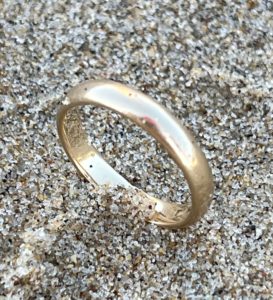 How to find a ring on the beach .. Call, Stan the Metal Detector Man .. 949-500-2136
*** Corliss called just after her husband, Jasper dropped his gold wedding ring in the sand. They had spent the day at Crystal Cove State Beach. Just before packing up to leave, Jasper went to brush sand off his swim suit when his ring flew into the sand. They realized it was going to be a miracle if they could locate it by using their hands. 
While Jasper struggled dragging his fingers trough the sand, Corliss got on her mobile device goggle searching metal detector. She found me on TheRingFinders site. I was able to convince them to stay at the location so I could meet them there in 30 or 40 minutes. 
I arrived and walked about 4 blocks to the location. Within a very short time the ring was found using my metal detector. " The right tool for the job".. They were very happy to have the ring recovered and they could get off the beach to an event that evening. 
It was less than a five mile drive and I have a state parks annual parking pass which made it easy for me to be on the beach on time. The search was easy with the proper equipment and a little experience.
Need Help! Call  Stan the Metal Detector Man  .. 949-500-2136  ., ASAP  24/7 … Don't Wait .. "I WILL TRY ANYWHERE "