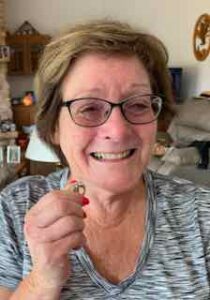 Elkhart, Wisconsin resident, Darcy, was horrified to discover her grandmother's wedding rings missing. It happened while mowing grass on her expansive 4-acre country estate. Darcy recalled seeing it on her hand that morning. She also recalled how the rings were fitting loosely, the result of having lost weight while grieving the deaths of multiple family members in recent years. Darcy had lost her husband, a sister and her grandmother. Now, the loss of her grandmother's ring seemed more than Darcy could endure.
The next five days found Darcy searching for the precious ring every moment she could spare, even scouring the lawns at night with the help of a flashlight. A kind neighbor loaned a metal detector but it too, failed to locate the rings. Neighbors and friends joined in the search, all to no avail. That's when I received a phone call from Darcy. She discovered me on The Ring Finder's internet directory of metal-detecting specialists. Darcy's voice betrayed both grief and exhaustion.
I drove up early the following morning and accompanied Darcy as she walked around the picturesque country setting. Having worked as a hospice chaplain, I quickly sensed Darcy's fragile emotional state. Tears threatened to flow any moment. Clearly, this was more than a ring!
I asked lots of questions and made mental notes of Darcy's unusual activities while mowing with her zero-turn Cub Cadet mower. These included times when she reached up to clear low hanging tree branches and times when she threw weeds out into a swamp that bordered the lawn. The swamp location seemed like a logical place to start my search since the action of throwing vegetative material provided a very plausible explanation for how the ring left her hand.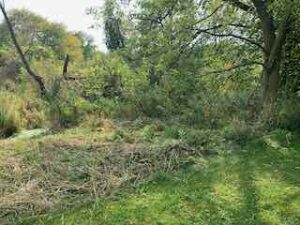 It was painstaking work. I used three different XP-Deus detectors including a probe that allowed me to reach down into the dense foliage and water. Even out in the country, far from civilization, the ground contained metallic evidence of human occupation. Non-ferrous (iron) signals were abundant. An hour and a half later I had only searched an area the size of a living room. In comparison, the vast 4 acres loomed large and daunting. But that is when a non-ferrous signal reached my headset. Curiously, the metallic conductivity value was on the low side, more consistent with an aluminum pull tab, not 14K gold. But I chose to investigate the signal anyway and was amazed to discover Darcy's heirloom rings! The two rings had been soldered together creating the lower-than-expected conductivity signal.
I breathed a silent prayer of gratitude and then made my way up to Darcy's house. Picking up my empty water bottle along the way, I presented it to Darcy and asked if she would mind filling it for me. When she returned with the fresh water, I reported that the swamp area was full of old iron objects. But then I added, "The only thing of interest that I found was this." And I placed the ring in her hand.
Words fail to fully convey the emotion of those moments. Darcy could hardly believe it. Clutching the precious love token between her hands, the tears flowed, sacred tears, tears of relief, of joy, of exhaustion and of grief. These mingled together forming an emotional waterfall. We sat quietly together savoring the moment. This was followed by photos of Darcy's grandmother with the ring clearly visible on her hand. Other photos included Darcy's dear husband and her sister. Their wedding rings soon appeared on the table alongside Darcy's grandmother's ring. Reunited in this way, it formed a loving tribute. And I couldn't help but again reflect on what I've observed to be true so many times, "It's more than a ring!"