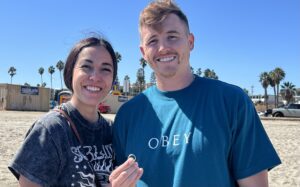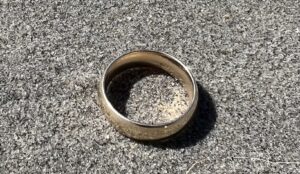 THE RING FINDERS METAL DETECTING SERVICE IN SAN DIEGO HELPED FIND A LOST WEDDING RING IN THE BEACH SAND.CALL CURTIS COX 760 889 2751 
Over the summer of 2022 I received many calls for help along with this couple on vacation visiting San Diego when this precious gold wedding band disappeared into the fluffy sands at mission bay the night before.
I hopped on the freeway immediately after talking to Jacob cause I know freshly dropped rings don't last long hidden in the beach sands…(It's just a matter of time before a treasure hunter beach combs that area). Within a 40 min drive & roughly 30min grid search using my metal detector,,I was able to unearth their ring just in time as they we're heading back home that day.
If you have lost a precious ring or jewelry don't hesitate to call,,Time will work against you. These California beaches are littered with newbie pirates & the ocean is hungry for lost treasures!