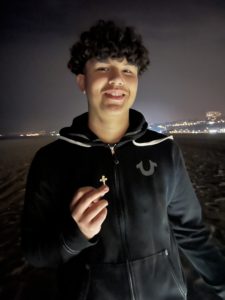 ….  Mark was at Santa Monica Beach with friends when he dropped his gold cross pendant in the sand. It was a keepsake that was given to him when he was 4 years old. Someone told him to google search metal detector services. He called me asking for help.
After a quick discussion on the phone I drove to meet him on the beach. The loss happened in the dark, but he said he would wait for me at the location. His friends had left but Mark was standing by himself in the area of the loss. 
He described the cross as a very small 14k pendant, so I set up my detector for that type material. Even thought there were a lot of trash signals. My high frequency settings on my metal detector was able to give me a signal that turned out to be Mark's sentimental gold cross. He was very excited as he had given up hope and had not really believed that a metal detector would be able to find such a small item. 
These searches are successful because he was able to contact me soon after the loss and he was able to stay at the location. (Not always possible in other reported losses, we try anyway)
Don't wait, call as soon as possible… Stan the Metal Detector Man …  949-500-2136  .. "I WILL TRY ANYWHERE "