TheRingFinders Metal Detector Service helped find a lost Diamond ring buried in the Grass.: OPEN NOW CALL 760 889 2751
I recently received a call about an Engagement diamond ring lost in the backyard and the couple was asking for my help?? We scheduled a time to conduct the search later on that day & I arrived promptly with the best tools needed for many calls or jobs.
Before I began to scan a grid pattern I asked a few ring detective questions like a description of the ring?? This ring sounded like it contains very little metal & has a center Stone which I knew would cause it to fall standing downright with the Center Diamond facing directly downwards.
I set my other beloved P.I Metal Detector aside,walked just a few feet in the backyard to a beep that was a familiar signal and called over the wife optimistically with good news,We both began running our fingers in that grass spot when she sees it & says…. "Oh My God,There it is!" The soon to be newly weds were very relieved & grateful I could help so quickly.
This search only took me a minute to locate but like I predicted this tiny platinum diamond Ring was buried stone faced down which can be very difficult or impossible to pick up with the wrong type of Metal detecting equipment. I didn't get the actual photo upon retrieval though but did smile when I saw it.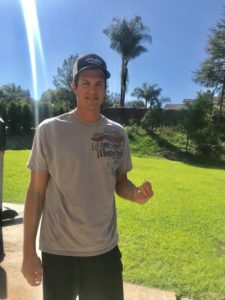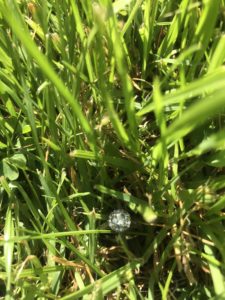 Please Note: Beaches and public area jobs are high priority…(time is critical) the sooner a metal detecting specialist can search for your lost item the better your chances of recovery.
Our goal here at The Ring Finders is to offer you a second chance to find what you thought was lost forever.
CALL NOW FOR A SPEEDY RECOVERY
CURTIS COX 760 889 2751