BRIAN RUDOLPH, LOST ITEM RECOVERY SPECIALIST (LAND, WATER, SAND, HOUSES & VEHICLES) WILL FIND YOUR LOST KEEPSAKE! CALL ASAP (301) 466-8644!
In the very early morning hour of 4:30am, I received an email from a young lady named Ashley. She was greatly disturbed about her husband's wedding band that ended up being lost in their large backyard earlier that very rainy evening.
Here's what she stated in her email to me:
"Dear Mr. Rudolph,
I am really desperate to find my husband's wedding ring lost due to my own stupidity in our back garden in Fort Washington, MD – just south of National Harbor. My heart is broken… I don't know if you are available for service today, Monday, but I would be so very grateful if you could call me to let me know. I understand that the stay at home order may affect things, but we have a single family house and I am afraid if we wait too long, an animal or eagle may see the ring and decide to keep it.  I will go out at first light and keep looking, but I am praying you can be our hope, since it seems you have helped so many people. I also hope that you are safe and well.
Many many thanks,  Ashley"
I immediately called Ashley upon reading her "call for help". After I spent a long period of time on the phone gathering up facts and details as to how the ring disappeared, I scheduled an immediate visit to Ashley's home.
I arrived at the most beautiful estate sometime in the early afternoon. There was forest, gardens and breathtaking wildlife surrounding Ashley and Marc's neighborhood from every side. The sad woman who initially contacted me made her way over to my car and within minutes we were walking around to the back of the house to see where the ring had been lost.
Ashley looked everywhere for the handsome and very heavy platinum ring that ended up somewhere on the grounds of their estate. Marc's wife specifically picked out the sentimental keepsake for her beloved husband years earlier prior to their day of matrimony. As she said in the email, she was heartbroken.
After reassuring the young lady that I would recover the band no matter how long it took, Ashley rested a bit easier within her and returned inside the house to resume her work. Meanwhile, I gathered up my detection equipment in the car and within ten minutes I started the search.
There was a lot of property to cover. Because the ring could have ended up just about anywhere in the backyard, I metal detected under the second floor deck, all around the basement's sliding glass door that leads out to the backyard, searched multiple flower beds, the dog pen, all around the trees, as well as grid searched 35 yards of basic grassy lawn territory.
At some point, after a few hours of searching with my Minelab Equinox 800, the shaft of the detector snapped off of my 15 inch coil that I had been using (the disc at the bottom of the shaft). Ashley came out to check on how things were going and I explained what had just happened to my detector. It was just one of those freak things where you can't explain how the fiberglass broke loose from the coil, causing the shaft to separate. This only caused the young lady to further worry as to whether or not Marc's wedding band would ever be found now that my detector was broken. I reassured her that I had replacement equipment in the car just in case something like this should ever happen. Little did I know that I had innocently left my replacement coil back at my residence. Therefore, I switched to my secondary Equinox 800 machine (which had only a 6 inch sniper coil attached – used primarily for difficult trashy areas and very hard-to-get to places to detect).
Knowing that I would have to re-grid much of the area again (because I didn't find the band on the first go-around), I recognized that it would be extremely difficult to use the little 6 inch disc across the very large property to find such a small priceless object. However, I wasn't giving up the search on this first visit and nothing was going to stop me from trying to find Marc's handsome platinum wedding band!
I continued to re-grid all of the previous territory that I had covered prior to my detector coil breaking loose. In addition, I took inventory on every little section of the property that just to make sure that I hadn't missed any areas with my detector. Still, no ring was found.
Finally, in my fifth hour of my search efforts, as I made my way around the circular dog pen (which was located in the center of the lawn, perhaps 25 yards away from the house), I hit a fantastic signal as I was grid searching approximately 4 feet from the aluminum pen fence! The target tone hinted to me that the piece of metal could very well be a surface find. There was a certain "bounce" to the signal which only an experienced metal detectorist could appreciate hearing when searching for a lost ring! I knelt down to investigate what my detector coil picked up along the ground. Then, I pulled out my hand-held metal detector called a pinpointer and zeroed in on the target's exact location. And there it was! The site was amazing to see! After five plus hours of searching, I finally recovered the very handsome and extremely heavy platinum wedding band that Ashley was so desperate to find! I was simply elated by what I discovered! Just as I was gripping the runaway ring from within the blades of grass below, Ashley was walking out of the sliding glass door entrance to see what I was focusing on! It was at that moment that she heard the great news! A tremendous wave of relief could be seen across Ashley's countenance! The nightmare was over! All of her fears were swept away in an instant of time with what I happily displayed in my hand and the declaration of what I had just uncovered! It really was a special moment! Ashley could not stop thanking me over and over again!
I was beyond excited that I was able to pull the ring from the property and that Ashley did not have to wait another day to have her husband's wedding band returned to his finger! We were both so overjoyed and I'm sure Marc was equally grateful, as well! Once I packed up all of my gear, Ashley thanked me once again for all of my efforts. I told her that I was thrilled that she reached out to me and that I could be a part of this very special happy ending! Marc's wedding band would now be preserved for the rest of their lives and many special stories would continue be told as a result of what I was able to find on that particular Monday afternoon in Fort Washington, Maryland!
If you would like to view the SEARCH VIDEO and the fantastic RING REVEAL pertaining to this search, please subscribe to my YouTube channel and you will be notified when the search video is uploaded onto YouTube.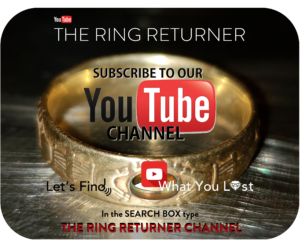 SUBSCRIBE TO BRIAN'S YOUTUBE CHANNEL TO VIEW THIS SEARCH VIDEO!
If you would like to watch the SEARCH VIDEO and the RING REVEAL pertaining to this story, the video will be uploaded soon. To receive a NOTIFICATION letting you know when the video is uploaded to YOUTUBE: go to YOUTUBE by CLICKING THE LINK BELOW or OPEN your YOUTUBE APP on your device. In the SEARCH BAR, type: THE RING RETURNER, click SUBSCRIBE and lastly, CLICK ON THE "BELL" to receive NOTIFICATIONS when this latest search video is available to view! 
BRIAN'S YOUTUBE CHANNEL LINK: 
https://www.youtube.com/channel/UCmcn09QqWhHrj-7SGqlUBJQ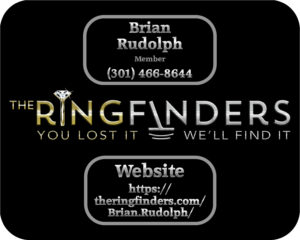 CALL BRIAN RUDOLPH WITH THE RING FINDERS AT (301) 466-8644!
VISIT THE RING FINDER'S WEBSITE TO READ MORE OF BRIAN'S SUCCESSFUL SEARCH STORIES at:
https://theringfinders.com/Brian.Rudolph/
HE WILL RETURN TO YOU WHAT HAS BEEN LOST!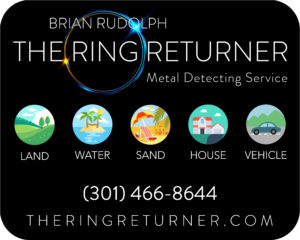 VISIT BRIAN'S LOCAL WEBSITE FOR ADDITIONAL STORIES AND INFORMATION AT: www.theringreturner.com