Brian Rudolph, Lost Item Recovery Specialist (Land, Water, Sand, Snow, Leaves, Houses & Vehicles) Will Find Your Lost Keepsake! Call ASAP (301) 466-8644!
I received a call from a gentleman named Leo who lived in Potomac, Maryland who was hoping that I could help him find his lost wedding ring. Three days earlier, Leo had a party in the backyard of his lovely home. A bunch of his guy friends came over for drinks and a delicious steak dinner. Sometime in the middle of the night after the party or perhaps early the next morning, Leo realized that his very handsome 18 karat yellow gold Cartier "Love Ring" wedding band was no longer on his finger.
Leo went out back to his swimming pool patio area and looked everywhere for the missing ring. He then searched throughout the grassy lawn but all of his search efforts led to no avail. He then went to the trash bags that contained all of the throwaway items from the party and analyzed every piece of trash with the hope of finding his lost treasure. Still, he could not find his most precious sentimental keepsake.
After many hours of searching with no positive results, Leo searched online for an answer to his problem. The solution came when he found the elite international directory of metal detectorists called THE RING FINDERS. He searched for a detectorist in his area and my name, Brian Rudolph, popped up. That is when he reached out to me and we immediately set up a time for me to come over later that evening.
When I arrived at Leo and Michelle's most beautiful Potomac, Maryland estate, I could not have been more excited to be a part of solving the mystery of the missing wedding band. Leo met me in the driveway and escorted me out back to show me all of the places where he walked and partied with his friends several evenings prior to my arrival.
As soon as I got completely oriented around the backyard of this grand estate, I immediately returned to my vehicle to retrieve all of the necessary equipment that I would need to use for the search. Leo returned to the inside of his home as I began grid searching the entire front lawn that was located closest to the mansion on the top side of the backyard (there was a lower level section of the backyard where the swimming pool rested and then more lawn behind the pool and patio).
At first, I wondered why I was getting so much interference coming through my metal detector. No matter where I swung the coil in search of the missing ring, I was getting all kinds of strange beeps and static registering on my machine. I still battled through the terrible distraction but eventually I needed to solve the problem with this particular issue. I had Leo come outside to chat with me and at some point I asked him if he had an electric dog fence. He replied by confirming that he actually did have an electric dog fence buried under the entire perimeter of the yard. I greatly thank Jeff Morgan (THE SEATTLE RING HUNTER), a great ring finder who is also a proud member of THE RING FINDER directory who suggested that there could be an electric fence turned on at this estate. I am so grateful for Jeff's knowledge and professionalism! Once the fence was turned off, all of the interference disappeared! I was back in business! A big shout out to Jeff in Seattle, Washington!
After finishing the entire front lawn that was closest to the house, I was able to conclude that the gold wedding band was not lost in that section of the backyard. I then started detecting around an enclosed section where the garbage cans were placed. There were also garden hoses and other accessories that I needed to move out of the way to make sure the ring did not get lost in that isolated environment.
When I came up empty-handed inside and around the fenced in area where the trash cans were placed, I searched all along another fence line that was closest to the entrance to the backyard leading from the driveway. I also metal detected in and around a pool shower stall that was adjacent to the other fenced in section where the trash cans were hiding within. Again, I came up with nothing.
At this point I believe I had searched for over three hours and I started to get more curious as to why the ring had not appeared at that point. My next mission was to grid search along the right side of the lawn which was to the right of the swimming pool going down on a decline away from the house. I was meticulous with searching for that Cartier wedding band along that right side of the lawn. Therefore, I was confident that I had not missed even a square inch of that part of the property. There was a stone wall that separated the right side of the lawn and the pool patio and so I stayed along that right side and worked up and down the decline. There was also some sports equipment that was laying out on the grass and I metal detected all around that area, as well. Unfortunately, there was still no ring to be found.
At this point, I was getting close to finishing the fourth hour of metal detecting and I was getting concerned that perhaps Leo may have lost his priceless piece of jewelry somewhere in his gorgeous home. The only areas remaining to be searched happened to be a small grassy area that was near the pool, adjacent to the patio closest to the back wall. In addition, I needed to check inside the pool and around the sides where the grass met the concrete slab that surrounded the pool. One thing that I learned long ago as a young ring finder and that was: there is always hope until the search is completely done and finished! Until then, you keep pressing on! And that's what I did!
I metal detected all around the perimeter of the pool without positive results. I scanned with my eyes all around the inside of the pool, hoping that perhaps the yellow gold had somehow rolled from the patio into the heated water. Again, my efforts lead to no avail. I just could not figure out what could have happened to this poor ring!
Just after detecting the edge of the lawn that met up with the pool's concrete slab, I made my way over to the grassy area that was closest to the patio stone wall where I had been detecting the right side of the lawn earlier. I was now coming to a complete circle in my search efforts and it was looking like I was going to have to call it quits moments later. However, then something wonderful happened! Just as I was finishing one of my last swings with the detector right along the end of the stone wall that separated the side yard from the pool patio, my detector gave me a signal worth looking into. It was faint and choppy but it still got me curious. Just as I was kneeling down to get a better look at what the edge of my machine's coil was faintly picking up, my eyes locked in on something shiny, resembling a yellow gold color that was wedged down in the ground between the outer edge of the stone wall and where the grass began. With my headlamp blazing above me, I focused in on that very spot and lo and behold, there it was! Leo's Cartier "love ring" wedding band! It had slid off of its owners finger sometime during the party and made its way into a crevice that was located between the far end of the stone wall and the luscious grassy lawn! I found the ring! At the very last second or so of my long four-plus hours of searching, I was able to recover Leo's precious keepsake! I could not have been happier for Leo! When I finally revealed the good news with my client, I showed him where I found the ring and he could not believe it! Of all places! The ring took off in a certain direction as it traveled airborne off of Leo's finger and it just happened to end up in that very crevice – that little space where the eye would not have been able to naturally lock-in on that place where it was hiding! Leo was so blown away by my find and was finally relieved knowing that his precious ring had returned to his finger once more! He could not have been any more grateful for my diligence and long-suffering!
While Leo and I began to celebrate the great discovery, we could hear one of the mansion's windows open up on the top level and Leo's wife Michelle let out the most excited cheer for what I was able to accomplish that evening! She was so happy and most grateful for my work! The two of them were so very kind with their words and generosity, as well! I kept telling them how honored I was to have been called in to try to solve this mystery!
After saying our goodbyes, I drove back down the estate's driveway and onto the street. As I looked back at that beautiful home, it brought so much joy to my heart as I thought about how I successfully helped birth two new smiles for the couple that I had just said goodbye to, knowing that such a special ring was returned to Leo's finger! I truly love what I do and I absolutely love the people I do it for! What a night that was!
Subscribe to BRIAN'S YOUTUBE CHANNEL to View This Search Video!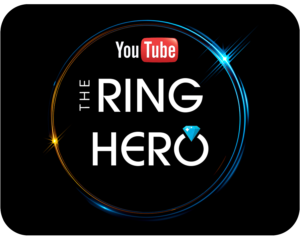 To receive a NOTIFICATION letting you know when the video is uploaded to YouTube: go to YouTube by Clicking the Link Below or Open your YouTube App on your device, go to the SEARCH BAR, type: THE RING HERO, click SUBSCRIBE and lastly, CLICK on the "BELL" to receive NOTIFICATIONS when this latest search video is available to view! 
Brian's YouTube Channel Link: 
https://www.youtube.com/channel/UCmcn09QqWhHrj-7SGqlUBJQ
Call Brian Rudolph with THE RING FINDERS AT (301) 466-8644!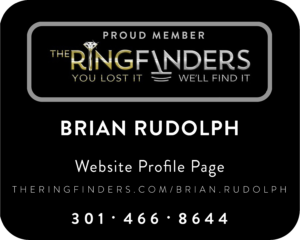 VISIT THE RING FINDER'S WEBSITE To Read More of Brian's Successful Search Stories at:
TheRingFinders.com/Brian.Rudolph/
He Will Return to You What Has Been Lost!
Visit Brian's Personal Website for Additional Stories and Information at: www.TheRingHero.net