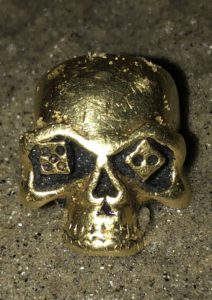 TheRingFinders Metal detecting service in Pacific Beach San Diego helped find a lost 18k Gold skull ring ☠️CALL NOW  760 889 2751
This ((killer)) find & returned began when Jason called me asking if I could help search for a precious  large gold ring in knee deep surf water which vanished a few days prior in Pacific beach.
He mentioned to me something along the lines this seemed like a long shot and that his pessimistic friends had told him it could never be found,Waist of time,,,"He should just give up and go buy a new one."
Fortunately, I could sense something we both share in common. A different look in life being optimistic people. So we met up thar at San Diego's current midnight low tide during a timeline known for the best chances of finding jewelry lost in the ocean.
This was very important to him having getting it custom made over 11 years….A few hours later, While teaming up with Jason while he was well searching out and about with a flash light.. I was also metal detecting every inch of the possible areas up to around 3:30 in the morning before my batteries ran low enough then eventually call it quits.
Heading back to our vehicles now and bummed out about this time,,I could only give him a bit more of hope..Maybe we were not in the precise area? Many questions in every mind can also obscure the truth of a lost ring. Did it drift or get sucked out into the abyssal sea? Was it found by some beach comber detector person recently? Washed up on shore for someone to pick up? Is it buried too far down by now to locate with a deep Pulse induction metal detector that I used/prefer???
Onwards,I promised to come back the next midnight and continue the search but recommended him to go back as well during daylight when it's easier to remember the exact location.  Such as; Landmarks,Flagged cones and distance out from the shoreline.

North,East,South,West,,,(Never Eat Soggy Worms.) This is very tough to determine for anyone by the way at night or day. Even for myself being a local San Diego beach metal detector since 2006.
Then I receive a text early a.m that it was actually lost just further south of where I had scanned over along with a picture of identifiable landmarks to go by in the background. This was GREAT to hear for me/us as I am confident it wasn't in that area we thoroughly hunted over before..I immediately set my alarm and taking another cat nap before heading off.
I arrived to the scene of the lost ring at midnight again with maybe one Crap shoot left? 🎲 🎲 The tide was still high a bit pushing me East slowly covering the shallower surf zone when all of a sudden…I got a big familiar non-ferrous signal near the water line below the slope down from the dry sand..I took 2 small scoops in the wet sand then miraculously out came this Large 18k,1 ounce precious skull ring. 
Jason was very stoked I could him find what others thought was lost forever.
Don't wait to call,,The Ocean is hungry and Gold has a density 19.3 times heavier than water which will cause your ring to sink fast! Timing is of the essence in order to find any precious ring or jewelry you may of lost.