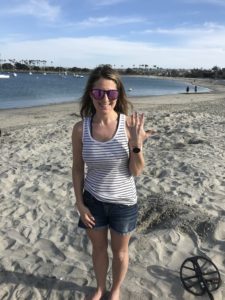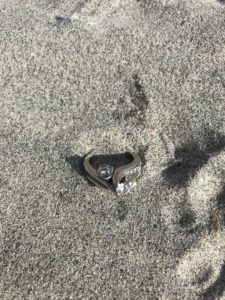 TheRingFinders Metal Detector Service helped find a lost Diamond ring buried in San Diego beach sand OPEN NOW CALL 760 889 2751
I recently received a call about a diamond ring lost in Mission Beach and the couple who was visiting San Diego from Washington was asking if I could help and what is the charge?? I told them there is No charge or fee because I personally work on a reward basis which is entirely up to you and what you can afford…I was on my way despite the Traffic or costs.
Upon arriving to the scene of the lost ring,I first began asking a few ring detective questions like a description of the ring?? This ring did sound like it could be a signal of a nickel I assumed ? I then began a methodical grid search in the center of where she believed it flew off into and immediately heard a familiar sound similar like a nickel..? 3-5 scoops later it was just a green Jefferson nickel and way to deep as I Prospected it to be,,Onwards…There were many metal targets buried in this site while scanning but I didn't waste much time with recovering them until I got the signal of a buffalo nickel…?
So I tossed my sand shovel & took 1 scoop with my hand in the sand & out came her beloved Wedding ring! We were all so relieved plus  they were very generous that I could help them enjoy the vacation here in San Diego.
Please Note: Beaches and public area jobs are high priority…(time is critical) the sooner a metal detecting specialist can search for your lost item the better your chances of recovery.
Our goal here at The Ring Finders is to offer you a second chance to find what you thought was lost forever.
CALL NOW FOR A SPEEDY RECOVERY
CURTIS COX 760 889 2751