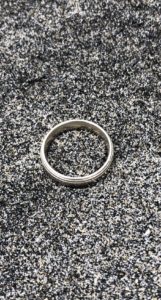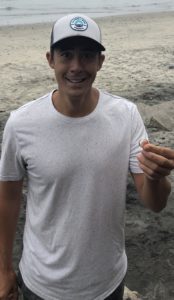 TheRingFinders beach Metal detecting service helped find a lost Gold wedding ring at Grandview beach. 760 889 2751 OPEN NOW.
As easy as a ring can be lost out in the surf water it can also easily be found by a Metal detector specialist. Last night I received a text from a fellow San Diego resident regarding his lost ring in the ocean about knee deep and 4 days ago while surfing.
After a few questions and concerns I decided it was best to go first thing in the morning when the tide was roughly the same height as the day he lost it. This may be the only shot to find this because the current tidal conditions are Neap tides and there will not be minus Spring tide for over week to wait for..In addition,Gold has a tendency to sink being 19.3 times greater than water.
This morning Joe and his pops were able to meet me in help of showing me the general area out in the surf to search. After about an hour of detecting in knee deep water I found a lost wrist watch still ticking but no ring. So I came into the shore to ask Joe a few more questions trying to dial in on exactly where it could of fallen but this is very tough to pinpoint on this beach as there are not many outstanding landmarks to go from,Just a long cliff. So we walked back out in the surf again to help better guide me then just a short time into what some may think is hopeless…I got a gold ring/Nickel type of signal and called him over to watch me dig it up,When out came a miracle…Joes precious ring  Stamped 10/10/10 the day he got married !!

The excitement and reaction I get from this hobby of helping others is the reason why I do this…It's one thing TheRingfinders,like myself enjoys and it never gets old.