BRIAN RUDOLPH, LOST ITEM RECOVERY SPECIALIST (LAND, WATER, SAND, SNOW, LEAVES, HOUSES & VEHICLES) WILL FIND YOUR LOST KEEPSAKE! CALL ASAP (301) 466-8644!
I received this text message from a guy named John who lived in Pottstown, Pennsylvania:  "Hi, I lost my wedding band in my Subaru Outback. Do you possibly have any suggestions???"
It turned out that John learned about my expertise in finding lost rings in vehicles from an article he read online located on THE RING FINDERS directory. In the particular article that he studied, I had recovered a platinum wedding band for a young lady who lost her ring in a Subaru Outback similar to John's over a year earlier. She searched for over a year but could never find her beloved keepsake. I was called in and found the band in the craziest place! This article gave John some hope with his own 'missing ring in a Subaru' story.
Here's the rest of the backstory: John was driving down the street and at some point his ring slipped off of his finger. He heard a "ping" sound and that's when he figured that when he parked his Outback, he would reach down on the carpet and find the "runaway" halo. To John's surprise, the 14 karat yellow gold classic men's wedding band was nowhere to be found! He looked everywhere for his ring and after several hours of searching John finally gave up the hunt. He was completely perplexed by the fact that he could not solve the missing gold ring mystery.
This particular wedding band that John had lost in his vehicle was not actually the original ring that was placed on his finger by his wife Victoria many years earlier on their special wedding day. The gentleman shared on the phone with me that the first band was lost in a fire that took place in his kitchen years earlier. The heat from the flames was so intense that John's ring was burning sear marks into his finger as the gold was scorching hot from the fire. As John was being burned alive, he desperately attempted to slide the sentimental keepsake off of his finger to finally bring some relief to his body. Finally, after several attempts, John was able to push the precious metal away from his tortured human flesh and he eventually found some relief as he continued to fight the flames. Thank goodness John survived the house catastrophe, however John would never recover the original wedding ring from the rubble.
After what happened during that terrible fire in John's kitchen, John had made a pact with himself that he would not allow for another ring to go MIA ever again. That is what motivated John to go onto Google and search for some possible help from an expert who recovers lost rings in cars and trucks. And that's when he came across THE RING FINDER'S article that I had typed up a year earlier.
I was so excited when John called me for assistance in trying to help solve the mystery as to where his ring may have ended up. Because my schedule was so packed at the time of John's call, I told him that I would try to guide him over the phone to help find the ring. If my efforts from afar still led to no avail, I would personally drive up to Pennsylvania and do the ring recovery myself. He was very grateful for any suggestions as to what he could do to try to find his piece of gold.
I spent a great deal of time asking him about what happened when the ring disappeared. I then inquired as to where he checked already and I also asked him if he checked certain key places that were more obvious spots to cover at the get go.
Once the interview was completed, I then took it from there and gave John a list of places to search before I would have to be brought in to conduct my own investigation if all else failed. My top priority was to have John search all around the steering column of his Outback. We knew that the ring never made it outside of the car. That was a fact which was quite encouraging to deduct. The wedding band had to have come to rest somewhere out of sight after it initially hit something plastic (there was nothing made of metal on the dashboard or around the steering column).
I was pretty convinced that the ring may have traveled down on top of the steering column and then slid behind the rubber flange that protects any dust from getting into the dashboard compartment. From there, the ring could have made its way down and around the side of the steering column. Or, it could have still been hanging out up at the top end of the dashboard just waiting to be discovered. I wanted John to carefully probe those key areas before I would make my way up towards Pennsylvania to use my tools and equipment to start my own search for the missing band. Once I gave John his homework assignment, he thanked me for all of the time that I gave him on the phone and the passion that was emitted from within me, hoping that I could help yet another person find their missing ring inside their vehicle.
I am so happy to report that less than an hour later I received a phone call full of utter excitement and elation from John! He went on to share the most exciting testimony that he had found his wedding band in the very section of the vehicle that I had suspected it was lost in – the steering column! He first checked the upper side of the column just behind the rubber flange that I talked to him about earlier. He carefully placed his finger or something narrow just behind the flange to see if the ring made its way back there. Just as John was pushing forward behind that "rubber curtain", he heard something fall from the top of the column behind the flange. With the hope that he could discover what this loose piece actually was that fell downward, John pulled back some rubber that protected the lower portion of the steering column from dust buildup and out came his beloved gold wedding band! He couldn't believe it! He was blown away by the incredible results soon after he finished his conversation with me! The nightmare was over! The mystery was solved! John's ring returned once again to his left hand's ring finger! I had been right all along in regards to my theory that perhaps the ring made its way behind the top of the steering column just waiting to be found by its rightful owner!
I could not have been happier for John as we celebrated on the phone and covered any more details regarding his search and successful recovery of his lost wedding band! It brought me so much gratification to be able to help someone who found me through another article about another missing ring in a Subaru outback which I was able to recover for someone else a year earlier! This is why I love THE RING FINDERS directory and why I appreciate its CEO, Chris Turner of British Columbia, Vancouver Canada! He started this directory over 13 years ago and it has become a source of great importance for thousands of people like John who would not have otherwise recovered their lost treasures without the help and assistance from ring finding experts like myself and hundreds of others around the world!
Before we got off the phone, John thanked me several more times and he told me that he would share with many people about THE RING FINDERS! He said he would forever mention to people how I was able to help him recover something that he felt he would never have seen again had it not been for my assistance. I was quite humbled by his words of kindness and it certainly made my night and well into the days that followed!
SUBSCRIBE TO BRIAN'S YOUTUBE CHANNEL TO VIEW THIS SEARCH VIDEO!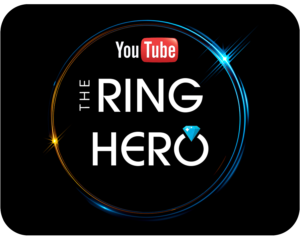 To receive a NOTIFICATION letting you know when the video is uploaded to YOUTUBE: go to YOUTUBE by CLICKING THE LINK BELOW or OPEN your YOUTUBE APP on your device, go to the SEARCH BAR, type: THE RING HERO, click SUBSCRIBE and lastly, CLICK ON THE "BELL" to receive NOTIFICATIONS when this latest search video is available to view! 
BRIAN'S YOUTUBE CHANNEL LINK: 
https://www.youtube.com/channel/UCmcn09QqWhHrj-7SGqlUBJQ
CALL BRIAN RUDOLPH WITH THE RING FINDERS AT (301) 466-8644!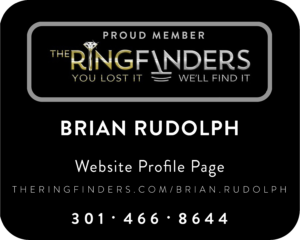 VISIT THE RING FINDER'S WEBSITE TO READ MORE OF BRIAN'S SUCCESSFUL SEARCH STORIES at:
TheRingFinders.com/Brian.Rudolph/
HE WILL RETURN TO YOU WHAT HAS BEEN LOST!
VISIT BRIAN'S PERSONAL WEBSITE FOR ADDITIONAL STORIES AND INFORMATION AT: www.TheRingHero.net