Who do you call to find buried property markers? This is a very common question that many property owners ask. If you want to know who to call without calling a professional surveyor, this article may be very helpful to you.
Call Item Recovery Specialist Brian Rudolph at (301) 466-8644! He Will Find Your Buried Property Marker! Also Brian Finds Lost Items of All Kinds in Any Environment: Land, Water, Sand, Cliffs, Snow, Leaves, Houses & Vehicles!
Professional surveyors can charge anywhere between several hundred dollars all the way up to around two thousand dollars. Most people that are looking to locate the legal boundaries of their real estate usually want to put a fence up or want to make sure that their neighbor (who is building something) is staying compliant with the legal property line boundaries.
It's rare that someone needs a legal document proving that the property markers that have been identified are truly positioned in the original spot where they were first placed by the developer. Therefore, finding a more affordable way of identifying the property markers is the goal for most homeowners.
Here is an example of someone who found an affordable way to locate the property markers on a particular parcel of land in Gainesville, Virginia.
Mary contacted me, a professional item recovery specialist in the Washington, DC, Maryland and Virginia area. I was found on the elite international directory of metal detectorists called THE RING FINDERS. Instead of spending a couple of thousands of dollars, Mary thought that maybe a professional metal detectorist could get the same job done but at a cheaper price.
Mary explained to me on the phone that she had inherited a parcel of land that had been in her family for the past 70 years or so. Back in the 1950s, there was a house on this particular property where she was brought up during the years of her youth. She had many happy memories on that land. Eventually the family house burned down, leaving nothing but the memories that were made on that very special property.
Not knowing whether or not Mary was going to sell the parcel of land or possibly build a new house on the estate, my client's first goal was to identify the borders of her piece of land. There were no disputes with any of the neighbors as to what part of the property was owned by whom. However, Mary needed to know exactly what actually belonged to her and what was owned by the neighbors. That's where I came into the scene.
I asked Mary to send over the property plat document as well as any other paperwork that she possessed. After I studied it over, I told Mary that I would charge her a very reasonable fee for each property marker that I successfully could identify and tag. I probably saved her around $1700. Her piece of real estate was not a small one and the markers were stretched out far and wide from one another. This potentially made my job a bit more complicated, yet I was up for the challenge and I was excited about saving Mary a ton of money.
A few days later, I met Mary out at her Gainesville, Virginia propertyand within a few hours I successfully identified all five markers that were buried in the ground since the early 1950s. I used several metal detectors and a bunch of other equipment and tools to help locate the buried pins. It didn't matter how long it took for me to find the markers since I did not charge her according to a timeframe. Since I charged my client per marker, Mary did not care how long it would take me to find what she was looking for. In the end, Mary was extremely happy that I was able to tape and tag all of the pins that were buried around her estate. She was able to see with her own eyes each and every steel item that was uncovered by my expertise!
In conclusion, if you want to save a bundle of money on having someone identify your property markers, I would suggest that you reach out to your local metal detectorist listed on THE RING FINDERS website so that they can help you in the same way that I helped my client.
SUBSCRIBE TO BRIAN'S YOUTUBE CHANNEL TO VIEW THIS SEARCH VIDEO!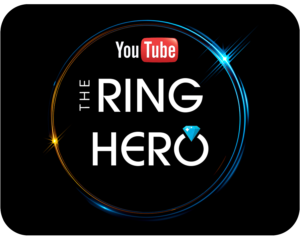 To receive a NOTIFICATION letting you know when the video is uploaded to YOUTUBE: go to YOUTUBE by CLICKING THE LINK BELOW or OPEN your YOUTUBE APP on your device, go to the SEARCH BAR, type: THE RING HERO, click SUBSCRIBE and lastly, CLICK ON THE "BELL" to receive NOTIFICATIONS when this latest search video is available to view! 
BRIAN'S YOUTUBE CHANNEL LINK: 
https://www.youtube.com/channel/UCmcn09QqWhHrj-7SGqlUBJQ
CALL BRIAN RUDOLPH WITH THE RING FINDERS AT (301) 466-8644!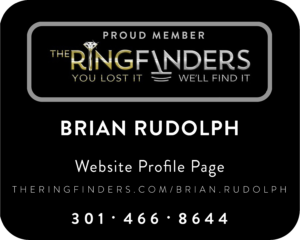 VISIT THE RING FINDER'S WEBSITE TO READ MORE OF BRIAN'S SUCCESSFUL SEARCH STORIES at:
TheRingFinders.com/Brian.Rudolph/
HE WILL RETURN TO YOU WHAT HAS BEEN LOST!
VISIT BRIAN'S BUSINESS WEBSITE FOR ADDITIONAL SERVICES, STORIES AND INFORMATION AT: www.MetalDetectingAdventures.net