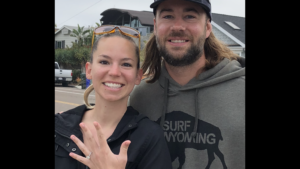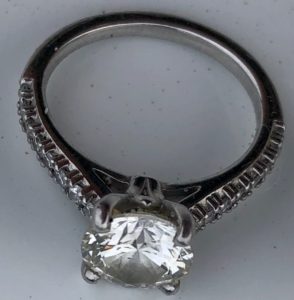 The San Diego Metal Detector Lost Ring finding service FOUND a lost diamond engagement ring at moonlight beach. OPEN NOW; Call or text 760 889 2751
Due to Covid-19;   The Ring Finders San Diego metal detecting service is continually having success finding lost precious Rings,Jewelry, Metal items that may of disappeared once or before this pandemic started. NO matter what the Time,Tides,Plagues,Hollidays or Sand conditions I am always personally willing to help.
This precious lost platinum diamond engagement ring took me only two searches to recover.  First, the same day called I was contacted to meet Travis that morning and spent some time mythologically scanning the most probable areas to no avail for 2hrs plus in wet sand up to waist deep in the ocean surf. Second time next morning during a preferred minus low tide, I fortunately recovered this long lost diamond ring in wet sand or toe deep for them before they headed back to their home town of Las Vegas the same day. I can't say enough to compensate for words. It's always an uplifting time no matter what happened that day. 
Pictures are worth more than a thousand words,,This newly wedded couple has a story to share back on their finger that will live on & on.
Here along this short stretch of the all mighty Oceanside littoral cell in north county San Diego, Every newly lost items has the chance of sinking below a metal detectors depth of retrieving the signal.  Especially with our replenished fluffy summertime snowing beach sand that pushes up over and builds a natural 5-50' foot towel line filled in with seaweed in just a couple hunts or less…Or even just one night! Too sum it up….Lost precious metal jewelry will sink fast!
                      "WHO YA GONNA CALL"
Don't wait too long before calling a professional near you. Timing is essential! Emergency TRF 911 calls for help are always important to me no matter what day or time. Please feel free to text or call 760 889 2751