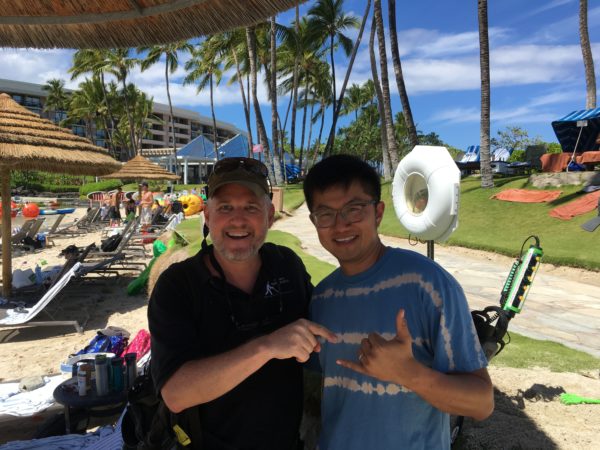 Nathan and his wife were playing with their son in the lagoon at Hilton Waikaloa while on holiday from California.
Nathan sat in the shallow water next to the sun loungers and dug out sand like a construction digger to the joy of his son. To his own dismay, he realized his platinum wedding ring was missing. Trying to dig again led to nothing – no ring at all.
I got to the hotel early the next morning only to find that the Lavaman Kid's race was being held in the exact spot his ring had gone missing. Hundreds of little feet were running over-and-over the spot in the water…
Once the event had wrapped up, I got out the detector and looked in the tight area Nathan was sure he'd lost the ring at. Nothing but coins, buttons and the usual stuff lost out of people's pockets in water. I was using the Garrett Sea Hunter, which as a pulse-induction machine in the water, finds everything even the smallest objects. I searched for an hour with no luck.
It's our experience that as sure as people are where they lost their treasure, the human mind and memory needs some extra feet added to a search area… I got out the Minelab Excal and broadened my search, this time adding about 20 feet to either side of the lagoon's beach. I was starting to suspect that the ring may have kicked up during the kid's race and someone may have found it.
The newly expanded search area yielded a cache of coins all in ankle-deep water. I dug a penny, then a dime, then a quarter. Nathan had been standing in the water watching. I thought to myself that it was a good "sign" – the coins seemed to be increasing in value (and weight) so the next find should be a ring! Seconds later I got a great tone and sure enough, it was Nathan's ring.
Nathan gave me a hug, shook my hand and said he'd thought it was as good as lost! Overjoyed to find it for him – vacation saved!